BAKflip makes some of the most innovative hard folding, retractable, rolling, and rack-integrated bed covers on the market. The best tonneau covers by this brand include the best-selling G2 Aluminum and upgraded MX4 Premier Matte Aluminum covers as well as rolling, retractable and rack-integrated designs. Find out where to get the BAKflip MX4 best price and easily convert the bed of your truck into a trunk.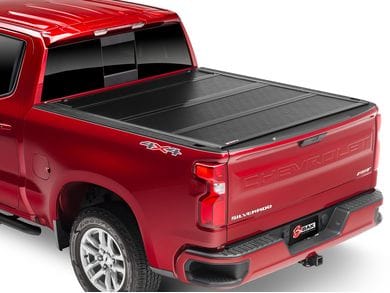 What Is the Easiest Tonneau Cover To Use?
Most BAK tonneau covers weigh in at around 40 pounds. The mechanism for extending and retracting a cover determines overall ease of use. A hard folding tonneau cover such as the BAK industries MX4 extends out over the full length of a bed and is secure when closed with the tailgate locked. Hard folding systems may require more effort to open and close than tonneau covers that have a rolling or retractable design.
Other easy-to-use designs that do not require lifting include the hard rolling Revolver X2 and the newer X4 version. These systems roll out on automatic rotational locking rails and allow for one-handed operation. This method is also secure and has an automatic slam latch that works from either side. A retractable Vortrak tonneau cover comes with a strap that is simple to pull out for coverage and stows away in a small, spring-loaded canister when not in use. Factor in your need for security and other decisive factors such as weight capacity or the need to install a rack.
Which Tonneau Cover Material Is Most Durable?
The strongest hard folding tonneau covers are made of Fiberglass Reinforced Polymer. A model such as the FIBER MAX Composite or F1 Premium Fiberglass is more resistant to impact than the aluminium surfaced panels of the G2. In addition to the durability of these designs, this material also stays cooler to the touch in hot climates.
You can strike a middle ground in terms of durability and price point with the MX4 Premier Matte Aluminum. This system has an upgraded dual action seal that makes it possible to close the tailgate of your truck without opening the last panel. The MX4 also has a superior scratch and ultraviolet light resistance compared to the standard G2 aluminium hard folding tonneau.
Can Any Tonneau Covers Support a Rack?
The BAK CS and CS-F1 models support a rack and are rated up to 500 pounds of weight. This cargo-carrying system is perfect for professionals who need to transport equipment and recreational gear such as kayaks or surfboards. The F1 system has a rack system that integrates with BAKFlip rails. A T-Lock key is included for sliding this cover up or down, and rack uprights can slide off when not in use.
If you are considering investing in a tonneau cover for your truck, you should look into the designs and materials available from BAK Industries. The leading manufacturer of innovative hard folding, rolling, retractable and rack-integrated designs makes covers in a wide range of materials at price points that make it possible to get the right protection for your ride.