Do you know which is the most expensive & fastest car in the world? We will talk about both cars in this article. So read till last.
If you still think that the Rolls Royce Sweptail is the most expensive car in the world which is $12 Million that means you are wrong. This was true but before March 2019. So what happened in March, if you are excited to know read this article till the end.
Bugatti launched their new car which beat the Rolls Royce Sweptail.
Bugatti La Voiture Noire – Most Expensive Car in the World
If we say that the Bugatti is one of the fastest cars in the world or the world's fastest car, that is not wrong. Not only the fastest car but also a worthy and expensive car in the world. Bugatti La Voiture Noire is the model of Bugatti, when we are publishing this article its cost is USD 18.5 Million.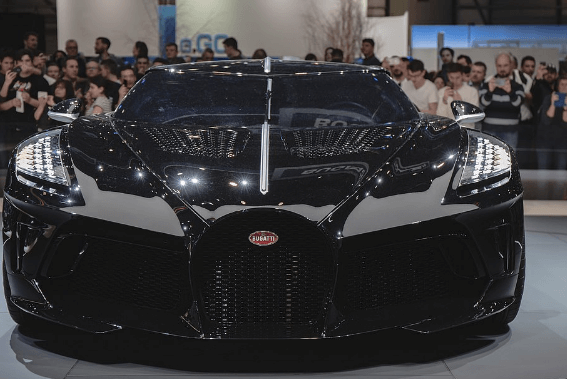 This is an expensive car not only for its fast speed but also for its other brilliant functions. La Voiture Noire was introduced in 2019 at Palexpo, Grand-Saconnex, Switzerland. During Geneva Motor Show which was held for ten days from 7 March to 17 March 2019. It joins the Divo as a derivative which is already a popular Chiron hypercar.
La Voiture Noire was built to celebrate the 110th anniversary of Bugatti, the success of Mr. Ettore Bugatti, owner of Bugatti Motors and La Voiture Noire is a modern reinterpretation of Jean Bugatti's Type 57 SC Atlantic since the 1930s. This was the single car that was manufactured and sold for 12.5 million dollars.
Specifications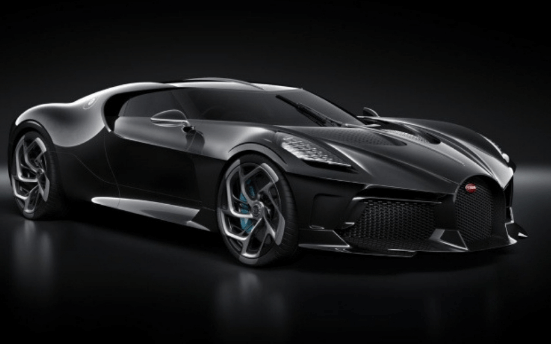 As you can see in the image La Voiture Noir is a completely black-colored car that can attract car lovers easily. Its black color shines like a diamond and shows the symbol of royalty. We must praise the engineers and designers who have done very hard work on it.
La Voiture Noir has a powerful engine which is 1,479 horsepower with an 8-liter engine (7993 ccs). Everybody knows Horse is a good runner and a powerful animal. Assume how powerful and faster your chariot can become if 1,479 horse pulls it together.
It has 1600 Nm torque (the turning ability of an engine) @ 2000 rpm from 16 cylinders. This is the iconic W16 that has been at the center of Bugatti in recent years, redesigned for this particular car.
The weight of the car is 2000kg, hp/weight is 750 per ton ( it is a power-to-weight ratio and represented by up to 10 pounds). It can reach up to 100 km/hr in just 2.4 seconds and the top speed of the car is 420 km/hr.
Engine
If we think about the internal combustion engine logically, more cylinder means more power. Bugatti resurrected the sixteen cylinders in a few concepts, and they shocked the world when it started its production in 2001. To engine designers, there is nothing new under the sun.
So, they take inspiration from the Jetta VR6 and simply improved it. In general, the W16 engine is equal to two VR8 engines. Especially they added 4 cylinders to the W12 found in Bentley, Audi, as well as in VW models.
The Bugatti La Voiture Noir engine performance is slightly improved than the predecessor by the use of a sequential turbocharger. Instead of heaving to awaken 4 equally sized turbos simultaneously, the Bugatti La Voiture Noire Engine keeps two small turbines spinning and ready to boast.
Transmission
Before the return of Bugatti, no transmission capable enough to hold such power had been conceived. So it took the formula 1 master at Ricardo to build a new 7-speed dual-clutch gearbox.
The dry-sump system has various cooling circuits and it sends power to a multi-plate rear differential. The front end is controlled by a Haldex unit, similar to what Lamborghini and Audi's cars use.
With the Bugatti La Voiture Noir making 1,479 horsepower, Ricardo decided to demand the best components from their supplier. Each of the components has been tested for destruction to ensure years of worry-free-shifting.
Regardless of your feelings about the dual-clutch transmission, it makes perfect sense in this application. The potency of the brand is evident in the Bugatti La Voiture Noire.
Interior
Stephan Winkelmann, President of Bugatti describes the Bugatti La Voiture interior as the most comfortable car ever manufactured. It is a coupe that feels like a limousine.
The symmetrical layout and ergonomic controls will prevent anxiety when you are driving at 250 mph. It takes countless hours to combine inspiration from the past with the latest in safety and connectivity.
Leather and machine metals are combined to create the perfect atmosphere for the owner. Nothing is left to chance, as the seats, pedals, and controls are measured and fitted to the owner.
Brakes
If you need to stop, you should consider AP Racing. They engineered the Bugatti La Voiture Noire specs to allow for 249 mph in 10 seconds.
The massive rotors measure 16.5″ front and 15.7″ outback. Although they have considered the idea of titanium calipers, the Bugatti La Voiture Noire breaks are 8 pistons front and 6-piston rear.
Each position is a unique size to maximize the swept area. Using a few aerodynamic tricks, the front rotor heat shields create a turbine effect, increasing downforce at high speed.
Because the carbon-ceramic disc is designed to last the life of the car, the brake pads are your only point of wear.
Standout Features
Everything about this car stands out. The name is changed to " The Black Car" because it was inspired by a car that disappeared at the beginning of World War II.
The body is meant to look like a solid sculpture, and it can hold more lateral G force than any other Bugatti car. Both bumpers are made up of carbon fiber and integrated into the body. Covering the engine is the gorgeous deck lid perforable in an art-deco style.
The wheels and tires are specific to this car, with the silver spokes appearing longer by being painted on the sidewall. It is a blast from the past and also a statement to the world. Bugatti is capable of making your dream come true.
Bugatti Chiron – Fastest Car in the world
The Bugatti La Voiture Noire is the most expensive car, not the top fastest car. This car did not make itself the fastest car and couldn't beat its brother Bugatti Chiron.
When we think about speed the only name that comes to mind, is Bugatti Chiron. Bugatti has got the crown of the most expensive and fastest car in the world and maybe in the future, it can win more prizes in every competition.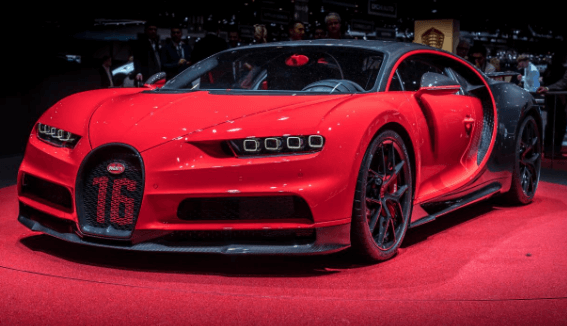 Bugatti Chiron is a two-seater French sports car manufactured by Bugatti Motor Company in Molsheim. It was revealed in 2016 at Geneva Motor Show which was held in Geneva, Switzerland from 3 March to 13 March for ten days to complete. This car is based on the concept of Bugatti Vision Gran Turismo.
Specifications
Dimension
| | |
| --- | --- |
| Length | 178.8 inch |
| Width | 80.2 inch |
| Height | 47.7 inch |
| Wheel Base | 106.6 inch |
| Seat Capacity | 2 |
| Weigh in kg | 1995 kg |
Convenience and Comfort
| | |
| --- | --- |
| Air Quality Control | Yes |
| Gear Shift Indicator | Yes |
| Rear Curtain | No |
| Luggage Hook & Net | No |
| Battery Saver | No |
| Lane Change Indicator | No |
| Rear Entertainment System | Yes (Radio, Bluetooth, and others) |
| Internal storage | NO |
| Audio System | Yes |
| Voice Control | No |
| Steering Wheel Gearshift Paddles | Yes |
| Keyless Entry | Yes |
| Engine Start/Stop Button | Yes |
| Glove Box Cooling | No |
| Central Console Armrest | Yes |
| Tailgate Ajar | No |
| Remote Trunk Opener | No |
| Remote Fuel Lid Opener | Yes |
| Low Fuel Warning Light | Yes |
| Accessory Power Outlet | Yes |
| Trunk Light | No |
| Vanity Mirror | No |
| Rear Seat Centre Arm Rest | No |
| Height Adjustable Front Seat Belts | No |
| Cup Holders-Front | Yes |
| Power Steering | Yes |
| Power Windows-Front | Yes |
| Power Windows-Rear | No |
| Air Conditioner | Yes |
| Heater | Yes |
| Heated Seats – Rear | No |
| Seat Lumbar Support | Yes |
| Cruise Control | Yes |
| Parking Sensors | Yes |
| Autonomous Parking | No |
| Navigation System | Yes |
| Foldable Rear Seat | No |
| Smart Access Card Entry | Yes |
| USB Charger | No |
| Tachometer | Yes |
| Dual Trip Meter | Yes |
| Touch Screen Display | No |
| Cup Holders-Rear | No |
| Rear AC Vents | No |
| Heated Seats Front | Yes |
| Adjustable Steering | Yes |
| Automatic Climate Control | Yes |
| Rear Reading Lamp | No |
| Rear Seat Headrest | No |
Bugatti attributes his distinctive character to a family of artists and engineers and strives to supply the best, the extraordinary, incomparable, forever. Each component of Chiron can be a combination of remembrance of its history and also the most innovative technology. The result is a novel creation of pouring with worth and exciting automotive achievement.
Conclusion:
Nowadays, Bugatti becomes a brand synonymous with speed and style. The Chiron is the fastest street-legal production car by Bugatti. While the Bugatti Veyron is the most expensive supercar around the world. Bugatti cars provide comfortable rides and add beautiful experiences of driving.