These are the top five Super Fast Superbikes in the world. If you are a bike lover you will be happy to know about the super-fast superbikes. These bikes are known for their performance and high speed.
Dodge Tomahawk
It is worth mentioning that bikes, like supercars, continue to exchange their positions for top speed and acceleration. The Tomahawk was introduced in 2003 by Dodge at North American International Auto Show. It is a Viper V-10 based motorcycle, with a 500 horsepower 8.3L V-10 engine that has four wheels.
When it was originally revealed in Detroit, the Dodge Tomahawk was nothing more than a wet dream of a speed junk. But now it is one of the world's superbikes, which has the highest price at $550,000. The Dodge Tomahawk can reach up to 60 miles per hour speed in just 2.5 seconds. Each pair of wheels were separated by a few centimeters and each wheel had its own separate single suspension which was required to handle the power.
Performance Claim
As it is introduced in the market in 2003,
Dimension
Length: 102" • Width: 27.7" • Height: 36.9"
Wheelbase: 76"
Seat Height: 29"
Weight: 1,500 lb • Weight Dist: 49F/51R
Track: Front: 8.75" • Rear: 10"
Fuel: 3.25 gal
Kawasaki Ninja H2R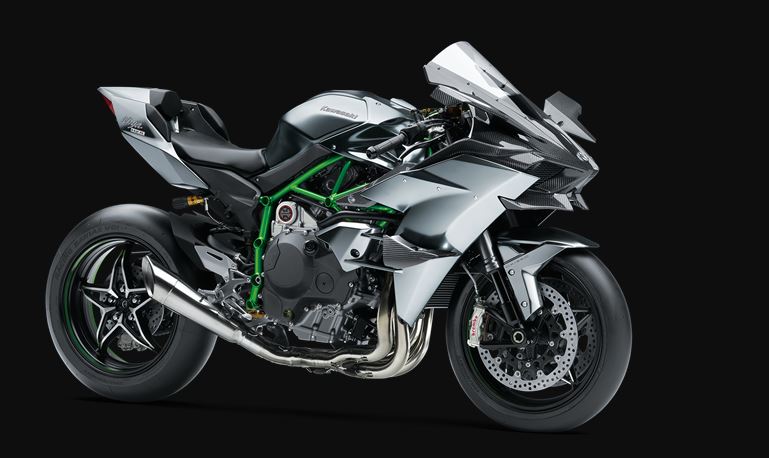 Kawasaki Ninja H2 was introduced by Kawasaki Motorcycles and Engine Company in 2015 in Japan. It is a supercharged super support class motorcycle in the Ninja Bike series. The development of the Ninja H2R motorcycle is beyond the limits of any other Kawasaki motorcycle. This superbikes price in the Indian market is ₹75.8 Lakh (7.5 Million) INR.
Displacement: 998cc
Number of Cylinders: 4
Power: 310-322 HP @14000rpm
Torque: 156 Nm @12500 rpm
Fuel tank capacity: 17L
Dimension
Length: 82.1" • Width: 33.5" • Height: 32.5"
Wheelbase: 57.1"
Seat Height: 32.7"
Weight: 215.9kg
Track: Front: 8.75" • Rear: 9.84"
Fuel: 3.75 gal
MTT Y2K Turbine Superbikes
Y2K Superbikes are manufactured by Marine Turbine Technologies. This bike is powered by a turboshaft engine since 2000. MTT Y2K used a Rolls-Royce Allison 250-C18 gas turbine, which was used by helicopter. Bikes are not mass-produced in continuous series; Each specific bike is handmade to order after obtaining the buyer's specifications.
The new MTT Y2k Turbine Superbike is actually a race-ready superbike and comes with a design that matches and even shakes some of the most popular performance bikes around the world.
Guinness World Record considers that the MTT Y2K is the fastest and most expensive production motorcycle. MTT Y2K came to India in 2013 during India Bike Week which was held in Goa. The cost of the MTT Y2K Turbine Superbikes is $200,000 USD.
Engine: Rolls-Royce 250-C18 Turboshaft
Power: 350 HP
Torque : 500 ft/lbs
Fuel tank capacity: 34L
Dimension
Length: 96.45"
Wheelbase: 68"
Seat Height: 33"
Weight: 200kg
Engine Weight: 62kg
Honda CBR1100XX
The Honda CBR1100XX is also known as Super Blackbird. The Blackbird, named after the Lockheed SR-71 (the United States Air Force fighter jet plane), is also a speed record holder. This bike was made to challenge, Kawasaki Ninja ZX-11 as the world's fastest manufactured motorcycle.
The engine is pushed forward to push the center of gravity downward which improves the balance of the bike. To minimize the composite block, the cylinder block was designed with as little additional material as possible to keep it as light as possible. Even the valve angles were submerged to keep the combustion chamber fully compact.
The bike has a knock-on detonation sensor fitted to each cylinder that continuously monitors combustion efficiency and optimizes ignition timing. To ensure that the engine is at excellent performance every second. The Super-Blackbird's engine is so smooth that Honda took it straight to the frame without the use of a rubber mount, which also increased overall rigidity while allowing the frame to be made lighter.
Displacement: 1,137cc
Power: 164HP @ 9450rpm
Torque : 109.7 Nm @ 7500 rpm
Fuel tank capacity: 23.0 L
Max Speed: 303 mph
Front Tyre: 120/70 ZR17
Rear Tyre: 180/55 ZR17
Dimension
Length: 85.0" • Width: 28.4" • Height: 46.1"
Wheelbase: 58.6"
Seat Height: 331.9"
Weight: 254kg
Fuel: 4.9 gal
Suzuki Hayabusa
Hayabusa is another name for fantastic enthusiasts worldwide. Suzuki Hayabusa is a sports motorbike that was manufactured by Suzuki Motor Company in 1999. The 'Busa', as it is famous in the motorcycle world, kicked-off the big bike trend in India. It was the fastest manufactured motorcycle at the time and continues with today's accelerated youth guns.
The Hayabusa Instrument Cluster options a group of four spherical analog gauges that show tachometers, speedometers, fuel meters, and coolant temperatures. It additionally gets a spherical LCD display (digital display) that shows the gear position indicator, clock, odometer, trip meter, and S-DMS map indicator.
Suzuki has launched the 2019 version of the iconic Hayabusa in two new colors grey and black with a pair of side reflectors to meet Indian safety standards. The price of the bike is ₹13.74 Lakh INR.
Displacement: 1340cc
Number of Cylinders: 4
Power: 197bhp @ 9500rpm
Torque : 155 Nm @ 7200 rpm
Fuel tank capacity: 21 L
Front Tyre: 120/70ZR17M/C
Rear Tyre: 190/50ZR17M/C
Dimension
Length: 86.2" • Width: 28.9" • Height: 45.8"
Wheelbase: 58.2"
Seat Height: 31.6"
Weight: 266kg
Fuel: 5.5 L