We know how occurred that moment when you get inside of the car & see dust in the sheet, dashboards & other interior parts of the vehicles. There is no doubt when you purchase a car from the dealer, it looks fabulous on day one. But only after a few weeks you can see a dust layer inside & outside of the vehicles. And this dust layer ruins the original look of your brand new car. So this is very important to understand what is the reason for the car interior dust & how to prevent them from dust. This dust will convert into a trim thin layer and has acquired the interior parts like the dashboard, fans, steering, and many more. It will make your car interior dusty and dirty.
Moreover, if you have kids and pets, then there is a high priority of getting dust inside your car. Although if you haven't done routine cleaning for your car. So It will also a chance of making dustier your car interior. To keep your car to a better look. So the OEMs and suppliers should follow some steps to prevent dust accumulation.
This article will discuss the major responsible cause for why the car interior gets dusty & basic prevention tips to clean your car interior.
What is the reason for the car interior dust?
The dust has been acquired due to the triboelectric static electricity. triboelectric electricity is defined as the friction-based static electricity that we encounter every day. While production, the surface friction causes the static electrons that are exchanged between the plastic part surfaces. Thus the plastic becomes negatively charged. While driving the car, all the negatively charged plastic begins to acquire dust particles. If you will not address all these things. then there will be a layer that has been established on the instrument panels, doors, pillars, and many more.
For decades, your dashboard dust was a rag. Thus you can go through with the manual dusting. But manual dusting is not so effective in keeping your car looking as new. Although it will have more effect on the dealership.
How do you get the dust out of your car interior?- Tips to clean car interior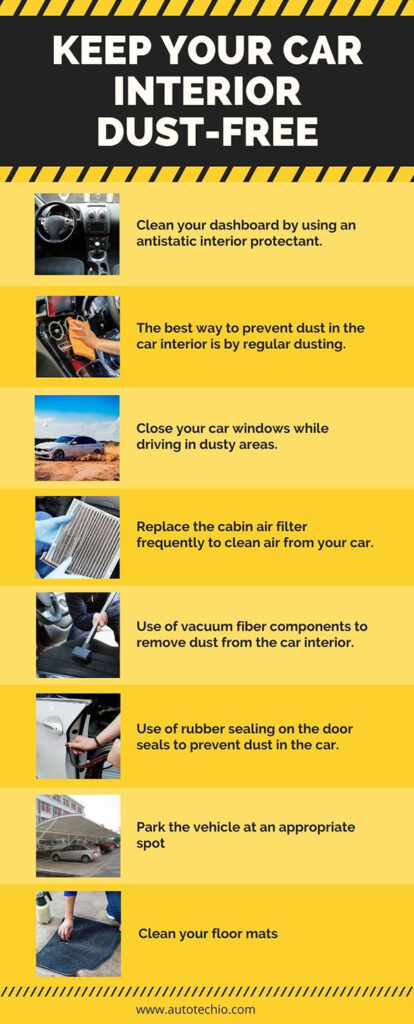 When dust collects on a surface, then it will become a chance for collecting insects and allergens. Also, you may have a problem with breathing. the dust may also have bad effects on your skin like skin allergies. And you will not experience an enjoyable moment while driving. Hence the dust may overload your vehicle and you are unable to control that. So to overcome your problem, we will discuss some ways to control the dust and minimize dust from your vehicle. Here get the list of a few of the best solutions to get your car interior clean.
Use an interior protectant
When your dashboard collects a thin layer of dust. It may be acquired due to the plastic surfaces can not dissipate static energy. at that time, you need an antistatic interior protectant. Although we ensure that you can go through with water-based protectant. Because these dry off quickly and will not attract dust particles.
Regular dusting
The best way to prevent getting dust in the car is regular dusting. Although proper dusting helps in removing the dust from your dashboard. We suggest doing proper and slow dusting so that the dust will not spread to other areas. Preferably, you should use a moist cloth to wipe the dust.
Also, it will help in rinsing your car interior. Avoid the dust mites under the lower side of the steering to reach the nooks and crannies. This method is cheaper and eco-friendly. Although proper dusting requires dedication and through this, you can reach every area that has been acquired by your car interior.
Close vehicle window in a dusty location
It is a good idea to keep windows closed in dusty locations. Through this, you can regulate the high amount of dust coming into your car. We prefer to leave a space for aeration to prevent the car from getting musty. As the dust particles can flourish in high humidity. It also helps to keep your car environment optimal i.e, free from dust. The outside pollution is the main reason for the car interior dust.
Vacuuming fiber components
It is one of the efficient ways to collect all the dust particles from the car interior. As the fiber is a magnet that is used to collect dust and mites. It stores all the dust particles and they will not remove by regular dusting. We need to use a stick to a regular vacuuming routine, it helps to control and regulate the dust particles and mites in fiber. Use the vacuum below the car seats to control the breeding of dust particles. Although vacuuming is the best way that will help to reach the tight spots.
Replacing the cabin air filter regularly
To lock the windows and seated doors, cleaning of the air filter is needed. It will help to provide clean air in your car. Hence you should replace the air filter regularly like 115 to 30 thousand miles. Although the replacing of air filters also ensures the engine performance of your car.
Conclusion
On driving the car, dust may be acquired in your car interior. On seeing the dustier car interior, you may question "why my car interior gets dusty". So the car interior may become dusty due to not regular and proper dusting of car interior, or may you have kids and pets. Kids and pets are responsible for getting dust into your car. Although there are many reasons due to which you car become dustier. Although it will badly affect your car engine's performance.
In this article, you will find a reason for the car interior dust along with the many ways that are useful in cleaning your car's interior and maintaining the new look of your car. Some methods like proper dusting, replacing air filters, closing windows while driving in dusty locations, and many more.