Do you know how many cars in the world? Guess
Don't worry let us tell you. When I am writing this article in 2019. There today more than 1 billion passenger cars travel the streets and roads of the world. Although these are cheaper cars. That's why approximately 17 million cars and trucks are sold every year
There are different types of vehicles and we will discuss the world's smallest cars. So we love to know, we love to discuss.
Austin Coulson's car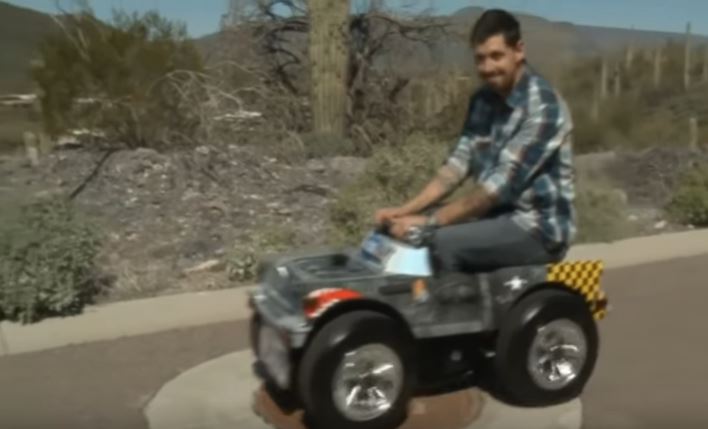 Phoenix native Austin Coulson had a dream to make this car. According to the Guinness World Records website, the car is 25 inches high, 2 feet 1.75 inches wide, and 4 feet 1.65 inches long. Coulson made the small beast in his garage, incorporating the body of a '57 Chevy Bel Air into the construction. He additionally used the engine, transmission, and drivetrain from a road-legal quad. It can not go over 25mph speed.
This small vehicle is full of features that you would normally associate with a traditional size ride: 9 inches by headlights, taillights, turn signals, rearview mirrors, seatbelt, a horn, and a 3-inch windshield. The vanity license plate reads "I'M BIG." The exterior of the Jeep was inspired by the American U-51 Mustang military aircraft. Coulson also inscribed the sides of the jeep with the tail numbers of a World War II-era ship his grandfather worked on.
Peel P50
Peel P50 is one of the world's smallest cars which is designed by Peel Engineering in 1962-1965 and remanufactured in 2010. It is a three-wheel car It is so small in fact, that it held the title of Guinness Book of World Record for the "smallest production car" for over 50 years. The Vintage Peel P50 is a great collector's item with the character: it has no reverse gear, but a light car (250 lbs) can be picked up and carried if you want. This small car holds the World Record for the smallest car for half a century. With a door and a headlight, Peel Engineering believes it is a symbol of automotive minimalism. Its speed can reach up to 38 mph. It has one cylinder with a single seat and the engine is placed at the front side which uses petrol to run.
Fuldamobil N
The original design of the car was conceived by Norbert Stevenson, a freelance journalist. These small cars manufactured by Electromassinchenbau Fulda GmbH of Fulda, Germany from 1950 to 1969, which length was 1.397 meters. The Norbert Stevenson design concept was for a very simple three-wheel car with room for two people, would have two wheels up front for stability, and would be powered by a smaller engine at the rear.
Eshelman Sport Car
This car was named and designed by the Cheston Lee Eshelman. It is probably the smallest car in the world in terms of width; The Adult deLuxe version is only 24 inches (610 mm) wide. Eshelman was very good at producing children's cars as well as airplanes and tractors. The Eshelman Adult Sport Car de Luxe is worth € 20,000 today.
Isetta
BMW Isetta is a little car whose length is 90 inches and width is 54.30 inches. This smallest car is manufactured by the BMW company from 1955-1962. Isetta car has different models which speed can reach up to 53mph to 80mph. The BMW 1955 version of the Isetta was the best-selling single-cylinder car in the world. It has a door at the front side near the steering. Its engine is 248 cc which is placed near the backside wheel. Isetta became so popular because of the shortage of materials due to the Second World War in those days.
Brütsch Mopetta
At the 1956 International Bicycle and Motorcycle Exhibition, Egan Brush needed a small car. And the Result: Mopeta. Ellipse-shaped, single-seat three-wheelers. The 1958 Mopetta – the final version, unfortunately – was 1.70 meters long and 0.88 meters wide. Its weight was only 78 kg. Only 14 Mopettas were built, and today only 5 are known to with the time. For a short time, it looked like Opel would be going to distribute the car commercially, but since they never did, it is now a great collector's item!
Pasquali Riscio
The Pasquali Riscio is a small Italian three-wheeled electric car named Indian rickshaw in Italian. It is a small electric car which can run 50 kilometers on a single charge. Riscio comes in two different variants of single-seater and double seater and it can reach up to a speed of 40 kmph.
The length, width, and height of the Riscio are 2.19m, 1.15m, and 1.50m.
Weight is 360kg.
Recharging time is 8 hr
Energy consumption is 0.11 kW/h/km
Battery 220
Because you can charge it with a normal household electric plug so in Italy it has no road tax for the first five years.