Superbikes are different from street bikes. These types of bikes were usually used for racing. But nowadays you can see the fastest superbikes in the world on the roads as well. The craze for the best superbikes in India can see in every city.
If you survey in India and ask youth how many of them like to ride on superbikes. There are very rare chances somebody will say, "No, I don't like Superbikes".
Keeping all these things in mind, we have prepared the list of the 7 most popular and best super bikes in India. Check out the list to know more about specifications, facts & dimensions.
List of Top 7 Best Super Bikes in India
1. Ducati 1299 Panigale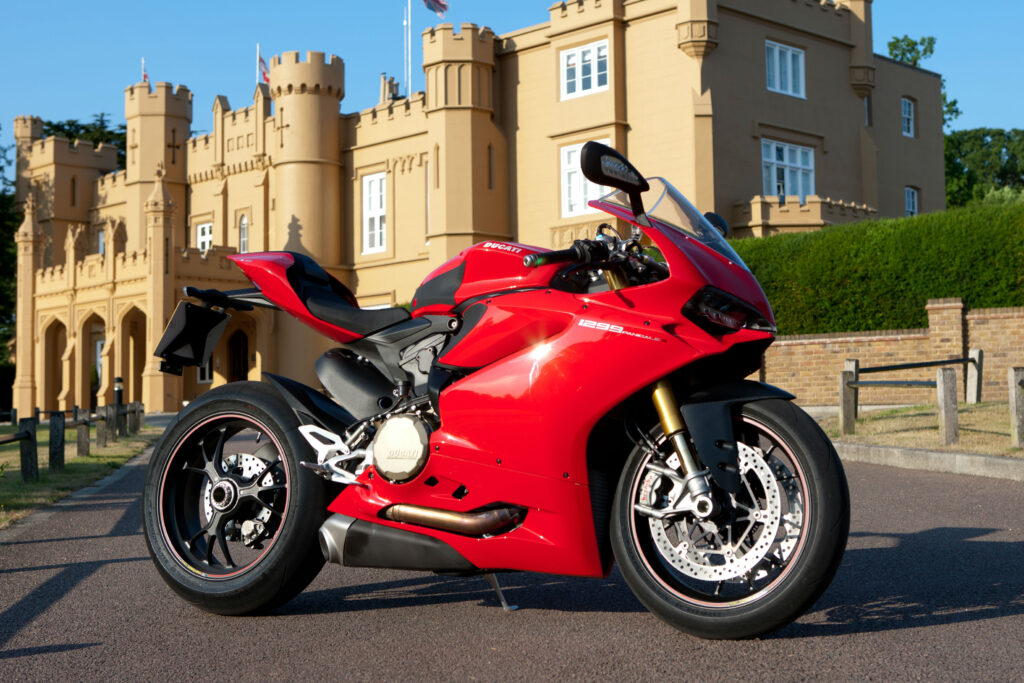 Italian manufacturer Ducati is the leading bike manufacturer in the world, and this is reflected by the company's long list of powerful bikes. The Ducati 1299 Panigale is a performance-oriented version of the quality 1299 Panigale. This is the lightest and most powerful bike GQ has ever ridden by some margin.
The Ducati Panigale was revealed in 2014 at Milan Motorcycle Show. The 1299 Panigale is powered by the rebellious version of the engine of the 1199 Panigale, which displaces the 1285cc.
The powerful engine and modern Ducati race design make it an ideal companion for the Italian premium bike lovers of India. The new 1299 Panigale is breathtakingly beautiful & stylish and is guaranteed to blow your mind. Ducati 1299 Panigale price starts from ₹ 51.82 Lakh INR.
Facts about Ducati 1299 Panigale
1. Peak output is a claimed 205 hp. There's also a claimed 15-percent increase in torque throughout the midrange from 5,000 to 8,000 rpm.
2. The base model Ducati 1299 Panigale has a 50mm Marzocchi fork and a Sachs shock, the S model gets an Ohlins Smart EC NIX30 43mm fork and TTX36 shock featuring electronic compression and rebound damping adjustment. It has both fixed and semi-active modes. The Smart EC event-based algorithm is tuned differently within each ride mode and can also be fine-tuned within each mode.
3. The three ride modes—Race, Sport, Rain—may be altered from the factory default. The modes include several customizable parameters affecting power delivery, the suspension, and the Ohlins electronic steering damper.
The following parameters are displayed on the dash: Quick-Shift preference (up/down, up only, or off), traction control (DTC) level, engine brake (EBC) level, wheelie control (DWC) level, and ABS setting.
There's also a new +/- switch on the left bar that allows on-the-fly adjustment of DTC, EBC, or DWC. This feature only functions in Race mode and only one adjustable parameter can be assigned to the +- switch. Altering the +/- assignment requires the bike to be stationary.
Displacement: 1285 cc
Number of Cylinders: 2
Power: 207 HP @ 10500 rpm
Torque : 142 Nm @ 9000 rpm
Fuel tank capacity: 17 L
Mileage: 15kmpl
Dimension
Length: 81.4" • Width: 29.3" • Height: 43.5"
Wheelbase: 56.8"
Seat Height: 32.7"
Weight: 190kg
Fuel: 4.5 gal
2. Suzuki Hayabusa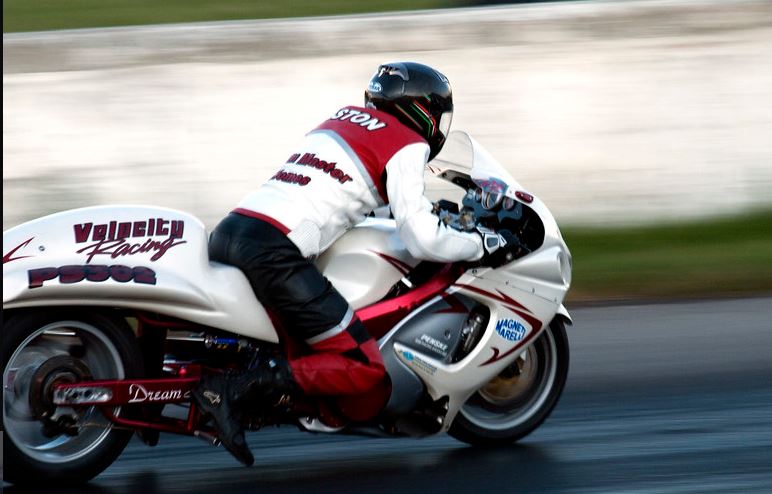 You can see Hayabusa's craze in India and it is one of the most popular, fastest, and best super bike in India. The previous Indian cricket team captain, MS Dhoni, also praises and uses this bike. Hayabusa is another name for fantastic enthusiasts worldwide. Suzuki Motor Company manufactured Suzuki Hayabusa a sports motorbike in 1999.
The "Hayabusa", as it is famous in the motorcycle world, kicked off the big bike trend in India. It was the fastest manufactured motorcycle at the time and continues with today's accelerated youth.
The Hayabusa Instrument Cluster options a group of four spherical analog gauges that show tachometers, speedometers, fuel meters, and coolant temperatures. It additionally gets a spherical LCD (digital display) that shows the gear position indicator, clock, odometer, trip meter, and S-DMS map indicator.
Suzuki has launched the 2019 version of the iconic Hayabusa in two new colors grey and black with a pair of side reflectors to meet Indian safety standards. The price of these superbike bikes in India is ₹13.74 Lakh.
Facts about Hayabusa
1. The lightweight and powerful engine of Hayabusa has been used in non-motorcycle applications as well. The British-made Lotus Seven-inspired Westfield Megabusa deploys the engine of Hayabusa
Suzuki was the first manufacturer to use the motorcycle's engine in a car. In the year 2001, Suzuki used the Hayabusa engine in its two concept cars, the Suzuki GSX-R/4 and the formula Hayabusa. Which were open-wheel race cars designed for the Japanese one-make competition series.
2. Even after 15 years of its inception, the bike is still among the fastest accelerating motorcycle ever introduced in the world. It takes only 2.76 seconds to reach 0-100 kmph. Presently ranked at 11 positions.
Displacement: 1340cc
Number of Cylinders: 4
Power: 197bhp @ 9500rpm
Torque : 155 Nm @ 7200 rpm
Fuel tank capacity: 21 L
Front Tyre: 120/70ZR17M/C
Rear Tyre: 190/50ZR17M/C
Dimension
Length: 86.2" • Width: 28.9" • Height: 45.8"
Wheelbase: 58.2"
Seat Height: 31.6"
Weight: 266kg
Fuel: 5.5 L
3. BMW S1000RR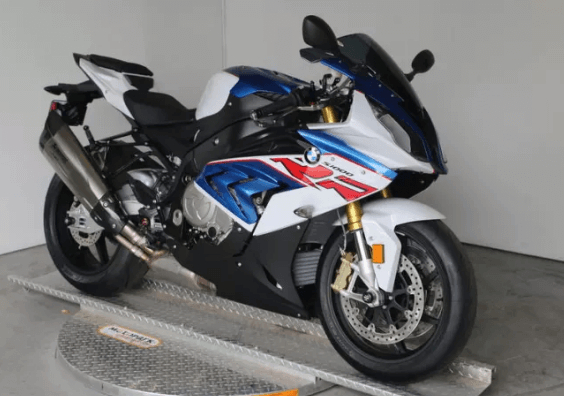 BMW S1000RR is a sports bike. It was manufactured by the BMW Company, for the 2009 Superbike World Championship. It was introduced by the company in 2008 in Munich.
Riding on the S1000RR in 2009, BMW made a stunning entry into the liter-class sportbike segment. Although the German bike maker had no expertise in making sports bikes, its S1000RR created a smashing entry because it won each major sports bike comparison. In India, the BMW S1000RR competes with the Kawasaki Ninja ZX-10R and ZX-10RR, Yamaha R1 and R1M, Aprilia RSV4, and Ducati 1299 Panigale.
BMW always loads its motorcycle with electronic components and the S1000RR is no different. The bike is provided with a full-color TFT instrument console that's Bluetooth-enabled. It additionally gets a dynamic traction system, hill-start assists, Shift Assist professional, adjustable engine braking, six-axis IMU, wheelie management, launch management, and ABS.
The 2019 BMW S1000RR is in two color options and three packages – Standard, Pro, and Pro M Sport, and their prices are ₹ 19.72 Lakh, ₹ 22.31 Lakh, and ₹ 24.43 Lakh INR.
Facts about BMW S1000RR
1. The 2019 BMW S1000RR is powered by a revised 999cc, in-line four-cylinder motor. That makes 207PS- an increased by 8PS- power at 8,500 rpm and 113Nm of torque at 11,000rpm. The motor also revs higher by 500rpm. The engine comes mated to a 6-speed gearbox with a bi-directional quick shifter.
2. The 2019 BMW S1000RR has taken weight reduction very seriously. Not only has the engine been made lighter by 4kgs, but the chassis has been registered as well and there's also a WSBK-inspired aluminum swingarm. The bike now weighs 197 kgs, 11 kgs lighter than the previous generation.
Displacement: 999cc
Number of Cylinders: 4
Power: 204bhp @ 13500rpm
Torque : 113 Nm @ 10500 rpm
Fuel tank capacity: 16.5 L
Front Tyre: 120/70 ZR 17
Rear Tyre: 190/55 ZR 17
Top speed: 299 Kmph
Dimension
Length: 80.7" • Width: 32.5" • Height: 44.8"
Wheelbase: 56.0"
Seat Height: 32"
Weight: 197kg
Fuel: 4 L
4. Yamaha YZF R1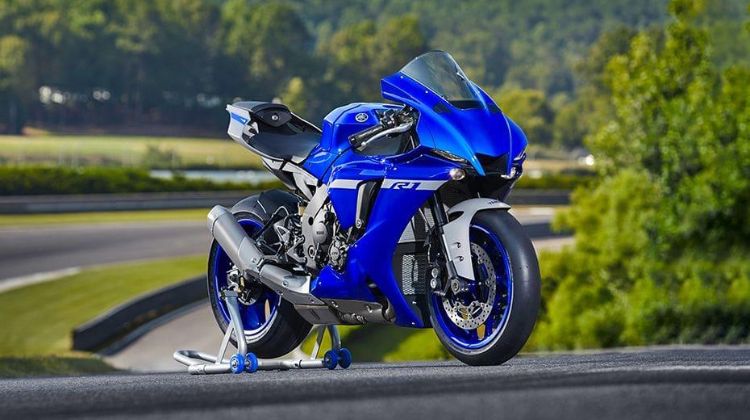 Yamaha YZF R1 is one of the most popular sports bikes in India. In India, three out of five bike lovers have Yamaha YZF R1. It is one of the most popular superbike bikes in India. In 1998, Yamaha Motor Company manufactured Yamaha YZF R1.
The 2018 Yamaha YZF R1 came to India with pure MotoGP blood and upgrades to form it a robust competitor in the field. The bike sports a grifter style language and LED light source unit with DRL the same as the previous model. However, the new paint theme associated with graphics offers the YZF-R1 an aggressive look.
The Supersport motorbike includes a cross-plane engine, a shorter wheelbase, and a few high-tech electronic systems that may positively excite you to the core. The ECU has been programmed for the five different kinds of control systems, including traction control, quick shifter, launch control, and slide control. The price of this superbike in India is ₹ 19.24 lakhs.
Facts about Yamaha YZF-R1
1. The Yamaha YZF-R1 was one of the first liter-class superbike launches in India. In 2008, when this bike was launched way back. It generated a lot of hype. Yamaha launched the latest generation of the R1 in India in 2015.
2. The R1 comes dressed in two colors- Yamaha Blue and Tech Black. While the Yamaha Blue name has been used on various hues of blue on Yamaha bikes, its latest iteration on the R1 is the darkest yet. The also gets a new livery with minimal body graphics, granting it a better look.
Displacement: 998cc
Number of Cylinders: 4
Power: 197.3bhp @ 13500rpm
Torque : 112.4 Nm @ 11500 rpm
Fuel tank capacity: 17 L
Front Tyre: 120/70 ZR17M/C

Dimension
Length: 80.9" • Width: 27.1" • Height: 45.2"
Wheelbase: 55.3"
Seat Height: 33.6"
Weight: 200kg
Fuel: 1.9 L
5. Aprilia RSV4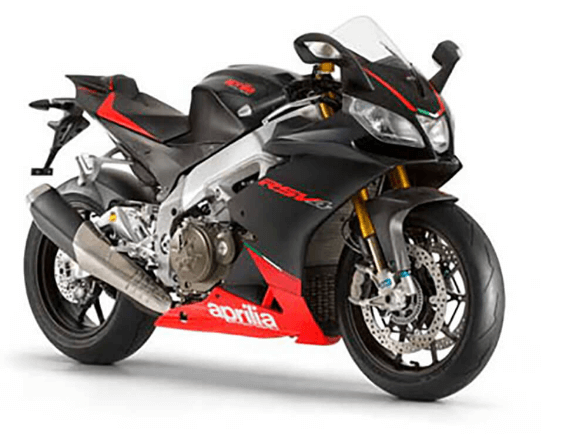 Aprilia Motor Company launched its RSV4 superbike in 2009 but its manufacturing was started in 2008. RSV4 has a rich racing inheritance and has evolved into a very capable race machine over some time. It is now a group of modern technology and is one of the best bikes in its category.
The 2016 updated bike was created to take advantage of and follow this year's Superbike rules stating that fewer modifications are allowed for production bikes. It has more power, is lighter, and has improved keeping and electronics. The price of this superbike in India is ₹ 20.71 lakhs.
Facts about Aprilia RSV4
1. The displacement bump was achieved by increasing the bore from 78mm to 81mm. The 52.3mm stroke and 3.6:1 compression ratio remain identical to the RSV4 RR. A revised ECU increases the 1100's rev ceiling to 13,600 rpm—600 rpm higher than the RSV4 RF and RR. With higher rpm, available torque increases by five ft/lbs over the V4 1000. The result is a motor that claims to produce a staggering 217 horsepower at 13,200 rpm and 90 ft/lbs at 11,000 rpm.
2. Aprilia has not provided specific weight numbers, the Euro 4 compliant exhaust should prove to be lighter than the alloy unit it replaces. If Akrapovic's reputation is any indicator, this will allow the new V4 to be heard as it was intended to be.
Displacement: 999.6 cc
Number of Cylinders: 4
Power: 201 bhp @ 13000 rpm
Torque : 115 Nm @ 10500 rpm
Fuel tank capacity: 18.5 L
Front Tyre: 120/70 ZR 17
Rear Tyre: 200/55 ZR 17
Top speed: 300 Kmph
Mileage: 12 kmpl
Dimension
Length: 80.3" • Width: 28.9" • Height: 44"
Wheelbase: 55.9"
Seat Height: 33.2"
Weight: 179 kg
Fuel: 4 L
6. MV Agusta F4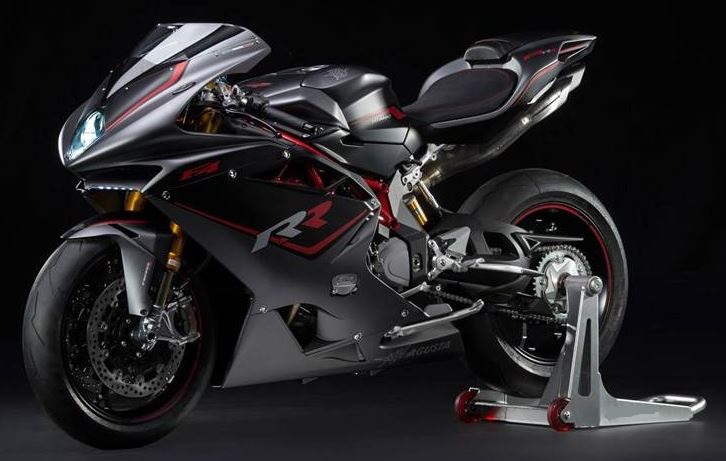 MV Agusta F4 is one of the most beautiful models of MV Agusta Motor Company. This superbike has stolen the heart of millions of bike lovers in India with its beautiful shining design and superfast performance. The MV Agusta F4 is built on a steel tubular frame, with a one-way aluminum swingarm.
The original F4 1000 was designed by the famous Italian automotive designer Massimo Tamburini. The F4 gets a diamond-shaped headlamp studded with two guide lights, while the lines have been sharpened to improve aerodynamics.
The electronics package comes with eight-level traction control, torque control with four maps, anti-wheel function, lean angle sensor, and a torque shift system. The cost of this superbike bike in INR is ₹ 60.76 Lakh. The F4 engine is unique in that it is a recently built radial-valve motorcycle engine.
Facts about MV Agusta F4
1. The Corsa Corta inline four-cylinder engine (bore 79 mm, stroke 50.9 mm) features a central distribution chain and radial valves. This version puts out a maximum power of 205 horsepower; a dedicated kit that arrives with the F4 RC adds seven additional horsepower for a total of 212.
2. The electronic platform is optimized to obtain the best possible performance on both, track and road. Parameters such as throttle sensitivity, maximum torque, engine braking, engine response, and rev limiter can all be customized. The F4 RC inertial platform has a lean-angle sensor and three gyroscopes, as well as three accelerometers. A package is designed to ensure absolute dynamic efficiency. Thanks also to EAS 2.0 electronically assisted shift.
Displacement: 998 cc
Number of Cylinders: 4
Power:201 bhp @ 13600rpm
Torque : 111 Nm @ 9600 rpm
Fuel tank capacity: 17 L
Front Tyre: 120/70 – ZR 17 M/C
Rear Tyre: 200/55 – ZR 17 M/C
Top speed: 291.2 Kmph
Mileage: 15 kmpl
Dimension
Length: 83.2" • Width: 29.5" • Height: 45.2"
Wheelbase: 56.9"
Seat Height: 32.6"
Weight: 191kg
Fuel: 4 L
7. Kawasaki Ninja ZX 14R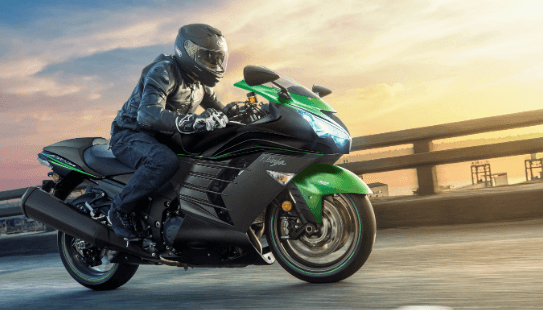 Kawasaki Ninja ZX 14R was introduced by Kawasaki Motorcycles and Engine Company in 2005 in Japan. Moreover, became the most powerful bike in 2007. Ninja ZX 14R was started for production in 2006. It is a supercharged super support class motorcycle in the Ninja Bike series.
The development of the Ninja ZX 14R motorcycle is beyond the limits of any other Kawasaki motorcycle. Kawasaki Ninja ZX-14R has good popularity in India, due to which it is a Hyper Sport Pedigree. It has been on sale in India since 2013, however, the 2016 version promises to be a whole lot better.
This superbike price in the Indian market is ₹19.7 Lakh (1.9 Million) INR.
Facts about Kawasaki Ninja ZX 14R
1. Kawasaki built sturdy bikes, their plastic quality is tough! So if you drop it, it won't shatter like the other.
2. Their engine revs hard and high because Kawasaki put the power all the way up in the rev range
3. Kawasaki has announced that it will discontinue the ninja ZX-14R next year. As of now, there's no specific reason, but we expect new emission norms. Kawasaki has updated the legendary Ninja ZX-14R with a new scheme for My2020: golden Blazed Green over Metallic black.
Displacement: 1441 cc
Number of Cylinders: 4
Power: 207.9 hp @ 10000 rpm
Torque : 158.2 Nm @ 7500 rpm
Fuel tank capacity: 22 L
Front Tyre: 120/70 ZR17 M/C
Rear Tyre: 190/50 ZR17 M/C
Top speed: 299 Kmph
Mileage: 11 kmpl
Dimension
Length: 85.4"
Width: 29.9"
Height: 46.1"
Wheelbase: 58.3"
Seat Height: 31.5"
Weight: 269 kg
Fuel: 5.8 L
These were some of the most popular superbikes in India that are dominating in-country through their different style, performance, and advanced technology. Thanks for visiting.