Super Bikes are different from the street bikes these types of the bike were usually used for racing. But nowadays you can see these Superbikes on the road also. The craze of Superbikes in India you can see in every city.
If you survey in India and ask from youth how many of you like to ride on superbikes. There are very rare chances somebody will say, "No, I don't like Superbikes.
1. Ducati 1299 Panigale
Italian manufacturer Ducati is the leading bike manufacturers in the world, and this is clearly reflected by the company's long list of powerful bikes. The Ducati 1299 Panigale is a performance-oriented version of the quality 1299 Panigale. This is the lightest and most powerful bike GQ has ever ridden by some margin.
The Ducati Panigale was revealed in 2014 at Milan Motorcycle Show. The 1299 Panigale is powered by the rebellious version of the engine of the 1199 Panigale, which displaces the 1285cc.
The powerful engine and modern Ducati race design make it an ideal companion for the Italian premium bike lovers of India. The new 1299 Panigale is breathtakingly beautiful stylish and is guaranteed to blow your mind. Ducati 1299 Panigale price starts from ₹ 51.82 Lakh INR.
Displacement: 1285 cc
Number of Cylinders: 2
Power: 207 HP @ 10500 rpm
Torque : 142 Nm @ 9000 rpm
Fuel tank capacity: 17 L
Mileage: 15kmpl
Dimension
Length: 81.4" • Width: 29.3" • Height: 43.5"
Wheelbase: 56.8"
Seat Height: 32.7"
Weight: 190kg
Fuel: 4.5 gal
2. Suzuki Hayabusa
You can see Hayabusa's craze in India. The previous Indian cricket team captain, MS Dhoni, also praises and uses this bike. Hayabusa is another name for fantastic enthusiasts worldwide. Suzuki Hayabusa is sports motorbike which was manufactured by Suzuki Motor Company in 1999.
The ' Hayabusa ', as it is famous in the motorcycle world, kicked-off the big bike trend in India. It was the fastest manufactured motorcycle at the time and continues with today's accelerated youth guns.
The Hayabusa Instrument Cluster options a group of four spherical analog gauges that show tachometers, speedometers, fuel meters, and coolant temperatures. It additionally gets a spherical LCD display (digital display) that shows the gear position indicator, clock, odometer, trip meter and S-DMS map indicator.
Suzuki has launched the 2019 version of the iconic Hayabusa in two new colors grey and black with a pair of side reflectors to meet Indian safety standards. The price of the bike is ₹13.74 Lakh INR.
Displacement: 1340cc
Number of Cylinders: 4
Power: 197bhp @ 9500rpm
Torque : 155 Nm @ 7200 rpm
Fuel tank capacity: 21 L
Front Tyre: 120/70ZR17M/C
Rear Tyre: 190/50ZR17M/C
Dimension
Length: 86.2" • Width: 28.9" • Height: 45.8"
Wheelbase: 58.2"
Seat Height: 31.6"
Weight: 266kg
Fuel: 5.5 L
3. BMW S1000RR
BMW S1000RR is a sports bike, it was manufactured by the BMW Company, for the 2009 Superbike World Championship. It was actually introduced by the company in 2008 in Munich.
Riding on the S1000RR in 2009, BMW made a stunning entry into the liter-class sportbike segment. Although the German bike maker had no expertise in making sports bikes, its S1000RR created a smashing entry because it won each major sports bike comparison. In India, the BMW S1000RR competing with the Kawasaki Ninja ZX-10R and ZX-10RR, Yamaha R1 and R1M, Aprilia RSV4 and Ducati 1299 Panigale.
BMW always loads its motorcycle with electronic components and the S1000RR is no different. The bike is provided with a full-color TFT instrument console that's Bluetooth-enabled. It additionally gets a dynamic traction system, hill-start assist, Shift Assist professional, adjustable engine braking, six-axis IMU, wheelie management, launch management, and ABS.
The 2019 BMW S1000RR is in two color options and three packages – Standard, Pro and Pro M Sport and their prices are ₹ 19.72 Lakh, ₹ 22.31 Lakh and ₹ 24.43 Lakh INR.
Displacement: 999cc
Number of Cylinders: 4
Power: 204bhp @ 13500rpm
Torque : 113 Nm @ 10500 rpm
Fuel tank capacity: 16.5 L
Front Tyre: 120/70 ZR 17
Rear Tyre: 190/55 ZR 17
Top speed: 299 Kmph
Dimension
Length: 80.7" • Width: 32.5" • Height: 44.8"
Wheelbase: 56.0"
Seat Height: 32"
Weight: 197kg
Fuel: 4 L
4. Yamaha YZF R1
Yamaha YZF R1 is one of the most popular sports bikes in India. In India three out of five bike lovers have Yamaha YZF R1. it is one of the most favourite bikes of Indian which was manufactured by Yamaha Motor Company in 1998.
The 2018 Yamaha YZF R1 came to India with pure MotoGP blood and upgrades to form it a robust competitor in the field. The bike sports a grifter style language and LED light source unit with DRL the same as the previous model. However, the new paint theme associated graphics offer the YZF-R1 an aggressive look.
The Supersport motorbike includes a crossplane engine, shorter wheelbase and a few high-tech electronic system that may positively excite you to the core. The ECU has been programmed for the five different kinds of control systems, including traction control, quick shifter, launch control and slide control.
Displacement: 998cc
Number of Cylinders: 4
Power: 197.3bhp @ 13500rpm
Torque : 112.4 Nm @ 11500 rpm
Fuel tank capacity: 17 L
Front Tyre: 120/70 ZR17M/C
Rear Tyre: 190/55 ZR17M/C
Top speed: 285 Kmph
Mileage: 20 kmpl
Dimension
Length: 80.9" • Width: 27.1" • Height: 45.2"
Wheelbase: 55.3"
Seat Height: 33.6"
Weight: 200kg
Fuel: 1.9 L
5. Aprilia RSV4
Aprilia Motor Company launched their RSV4 superbike in 2009 but its manufacturing was started in 2008. RSV4 has a rich racing inheritance and has evolved into a very capable race machine over a period of time. It is now a group of modern technology and is one of the best bikes in its category.
The 2016 updated bike was created to take advantage of and follow this year's Superbike rules stating that fewer modifications are allowed for production bikes. It has more power, lighter, and has improved keeping and electronics.
Displacement: 999.6 cc
Number of Cylinders: 4
Power: 201 bhp @ 13000 rpm
Torque : 115 Nm @ 10500 rpm
Fuel tank capacity: 18.5 L
Front Tyre: 120/70 ZR 17
Rear Tyre: 200/55 ZR 17
Top speed: 300 Kmph
Mileage: 12 kmpl
Dimension
Length: 80.3" • Width: 28.9" • Height: 44"
Wheelbase: 55.9"
Seat Height: 33.2"
Weight: 179 kg
Fuel: 4 L
6. MV Agusta F4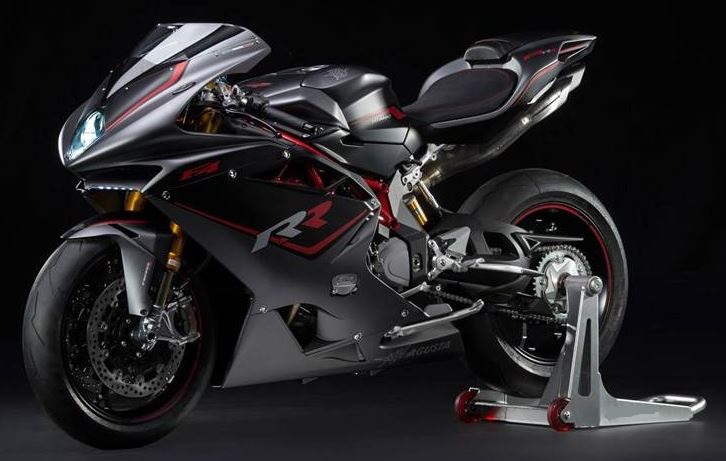 MV Agusta F4 is one of the most beautiful models of MV Agusta Motor Company. This superbike has stolen the heart of millions of bike lovers in India by its beautiful shining design and superfast performance. The MV Agusta F4 is built on a steel tubular frame, with a one-way aluminum swingarm.
The original F4 1000 was designed by the famous Italian automotive designer Massimo Tamburini. The F4 gets a diamond-shaped headlamp studded with two guide lights, while the lines have been sharpened to improve aerodynamics.
The electronics package comes with eight-level traction control, torque control with four maps, anti-wheel function, lean angle sensor and a torque shift system. The cost of the bike in INR is ₹ 60.76 Lakh. The F4 engine is a unique engine in that it is a recently built radial-valve motorcycle engine.
Displacement: 998 cc
Number of Cylinders: 4
Power:201 bhp @ 13600rpm
Torque : 111 Nm @ 9600 rpm
Fuel tank capacity: 17 L
Front Tyre: 120/70 – ZR 17 M/C
Rear Tyre: 200/55 – ZR 17 M/C
Top speed: 291.2 Kmph
Mileage: 15 kmpl
Dimension
Length: 83.2" • Width: 29.5" • Height: 45.2"
Wheelbase: 56.9"
Seat Height: 32.6"
Weight: 191kg
Fuel: 4 L
7. Kawasaki Ninja ZX 14R
Kawasaki Ninja ZX 14R was introduced by Kawasaki Motorcycles and Engine Company in 2005 in Japan, which became the most powerful bike in 2007. Ninja ZX 14R was start for production in 2006. It is a supercharged super support class motorcycle in Ninja Bike series.
The development of the Ninja ZX 14R motorcycle is beyond the limits of any other Kawasaki motorcycle. Kawasaki Ninja ZX-14R has good popularity in India, due to which it is a Hyper Sport Pedigree. It has been on sale in India since 2013, however, the 2016 version promises to be a whole lot better.
This superbike price in Indian market is ₹19.7 Lakh (1.9 Million) INR.
Displacement: 1441 cc
Number of Cylinders: 4
Power: 207.9 hp @ 10000 rpm
Torque : 158.2 Nm @ 7500 rpm
Fuel tank capacity: 22 L
Front Tyre: 120/70 ZR17 M/C
Rear Tyre: 190/50 ZR17 M/C
Top speed: 299 Kmph
Mileage: 11 kmpl
Dimension
Length: 85.4" • Width: 29.9" • Height: 46.1"
Wheelbase: 58.3"
Seat Height: 31.5"
Weight: 269 kg
Fuel: 5.8 L