Getting a problem with a car transmission is one of the worst experiences for the car driver. Especially when you drive any luxurious car such as a GMC motor. If you are facing unusual behavior during the gear shifting then it's the most common Symptom of transmission failure. There may be unpleasant sounds, burning smells, and leakage that are common which directly points to transmission failure. That all symptoms indicate the GMC transmission repair service without any delay.
As we know the smooth running & well-functioning features of your GMC vehicles mainly rely upon the condition of the car transmission & engine. Maintenance of transmission is the essential key to taking good care of your vehicle. Also, if you are not able to recognize the actual problem in GMC transmission, we suggest you visit the nearest GMC-certified technician. They have more advanced & superior knowledge to fix the complexities of transmission.
A major cause of GMC transmission failure
There are several reasons that affect your GMC manual or automatic transmission. Such as leakage, bearing failure, or other synchronize issue. The common GMC transmission problems if doesn't resolve on time it will become a major issue & affect the performance of vehicles. Here get a list of a few common signs of transmission failure.
Transmission fluid leakage
Transmission fluids prevent the transmission from overheating, delay in gear engagement, trouble in shifting gear, and gear slippage. In a manual transmission, fluids lubricate the gear and prevent grinding. While in an automatic transmission it creates hydraulic pressure which provides power to the engine. Low-level fluid or leakage can result in serious transmission issues. Therefore, a better understanding of what does transmission fluid do? is beneficial to managing the life of the car gearbox.
Needle roller bearings failure
The grinding or brushing sound from your vehicle may be caused due to worn-out needle bearings. Needle bearing is an essential component that prevents the gear's torque converter from grinding in automatic transmission. Needle roller bearings are small and lightweight and small damages to these can directly result in transmission failure.
Worn out clutch
Worn-out clutches can create problems in changing the gears by creating imbalances in the planetary gear. In a manual transmission system, a worn clutch is a common transmission problem. Leakage of hydraulic fluid in the clutch master cylinder can result in clutch failure. Another cause can be driving error if the foot not released from the clutch while frequently accelerating and shifting through the gears.
Gear synchronization issue
Bad or worn-out gear synchros can clearly result in transmission failure and stop the smooth functioning of the vehicle. For experiencing the best result, the two gears should spin at the same speed during the shift.
Common signs of GMC transmission failure
Here below are some common signs that can be reasons for transmission failure in your GMC car.
An unpleasant or burning smell emits out from under the hood.
Leakage of fluid under the vehicle.
A delay in transmission shifting results in a delay in vehicle response.
Delay in shifting gears.
Grinding noise.
Sluggish performance of the car.
Slipping of gears.
Odd noises such as screeching, clunking, or whistling come out from the vehicle.
Transmission fluid looks abnormal such as cloudy or thick.
Shaking of cars.
GMC Transmission Repair service by a verified service provider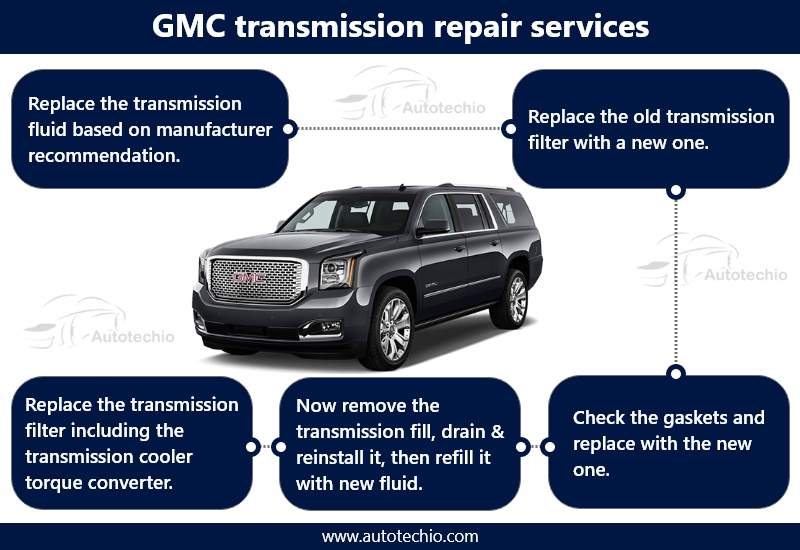 Many transmission issues can be solved without detaching the transmission from the vehicle. Certified transmission technicians know the GMC inside and out. They use the latest technology and tools and have expert GM support engineers. GMC trucks, cars, vans, and SUVs are the most durable vehicles which need a professional approach to look upon their transmission. Certified transmission expert follows the proper protocol with the hands-on expertise needed to be the best.
GMC certified service trained technicians deliver authentic services and expertise for your vehicle. Top-quality transmission repair includes:
Following all the rules and protocols to achieve OEM standard
Best GM designs, construction, and engineering
Providing specifications and features same as the new GM vehicle transmission
Test certification
You need to get your GMC transmission repaired under the circumstances such as gear or clutch failure, odd noises, gears sticking, hard in shifting gears, etc. Failing transmission arises safety issues that need to be immediately solved. GMC transmission repair may include replacing individual components such as gears, sensors, or valve bodies within the transmission.
However, you should always choose a certified shop to get your vehicle repaired by highly skilled technicians. Also keep in mind, that repairing your transmission is more economical rather than rebuilding a GMC transmission.
GMC transmission replacement & rebuild service
Rebuilding a GMC transmission involve major overhauls where damaged parts are replaced or repaired. Rebuilding is the process of repairing or replacing old parts with new ones. A licensed shop with certified technicians carefully inspects all the components before its operation. High-quality tools and equipment used to carry out rebuilding transmission procedures effectively. The process includes disassembling the parts and carefully observing them. After that, The disassembled parts cleaned and inspected thoroughly. The damaged or worn-out parts replaced with entirely new ones.
Certified technicians are experts in repairing the elaborated and complex design of GMC transmission. Rebuilding a GMC transmission can take a few days, depending upon the type of model of transmission. Rebuild GMC transmission functions the same as the new one, or even better. The cost of a GMC transmission rebuild is less than replacing a transmission. It covers all the OEM standards and also comes with a warranty of at least one year.
Moreover, To get a transmission replacement for your GMC vehicle, always step into the certified service expert shop near you. The replacement maybe not always be the best solution. Different transmissions have different variations depending upon the features such as model, engine axle ratio, and size of the tire. These key points should be considered before replacing the transmission. Replacement of the GMC gearbox is a very expensive process.
GMC transmission repair service- Important tips
This GMC transmission includes the following important services,
GMC automatic transmission repair: Replacing the transmission fluid according to the vehicle manufacturer's recommendation.
The GMC automatic filter replacement: This includes removal of the transmission pan, old transmission filter, and replacing it with a new transmission filter. In this process, the pan gasket is replaced with a new gasket and the transmission is filled with new automatic fluid.
GMC automatic transmission drain: It includes removal of transmission fill, draining of old transmission fluid, reinstalling the fill, and refilling the transmission with new automatic transmission fluid.
Transmission fluid exchange and filter replacement: In this service, automatic transmission filter and fluid are replaced including the transmission cooler torque converter
How much does it cost to fix a GMC transmission?
The cost of transmission repair depends and varies on several factors such as its make, model, type of transmission, the extent of damage, etc. the most important factor is the extent of repair which is being performed by the mechanic to your transmission. Fluid change or minor repair can cost a few dollars while replacing or rebuilding the transmission can cost thousands of dollars. A used transmission price ranges from $800 to $1500, a manufactured transmission from $1300 to $3400, and a rebuild transmission cost varies from $1100 to $2800. The labor cost is between $125 and $150. The transmission replacement is an expensive job whose average cost ranges from $1800 to $3400.
The average cost to rebuild GMC Sierra 1500 Transmission Rebuild is around $3050.
2000 GMC transmission Sierra 1500 – $2,700 – $3,300
2007 GMC transmission Sierra 1500 – $3,240 – $3,960
2020 GMC transmission Sierra 1500 – $2,491 – $3,045
2020 GMC transmission Sierra 1500 – $2,521 – $3,081
2014 GMC transmission Sierra 1500 – $2,750 – $3,362
Conclusion
The repairing & maintenance of the GMC transmission at a regular interval is very essential to get efficient output & performance from your vehicles. Also, if the condition of transmission is not considerable, According to necessity you can buy a remanufactured transmission or a used one. A Rebuilt transmission & used transmission price is more affordable & easy to buy. But before going with the external option always try to maintain your GMC transmission in the best manner.
Here in this article, we have shared the basic information on GMC transmission problems including a sign & symptoms of transmission failure. I hope the above information will help you a lot more & give you a better understanding of GMC transmission repair service.