The United States is a country of opportunity. Many businessmen and entrepreneurs from different countries want to invest here. But only a few get success in their business. In this, we will talk about what are the top 10 car brand in the US which has grown their roots in America and their market shares.
Market Shares in Auto Sector of Car Brand in the US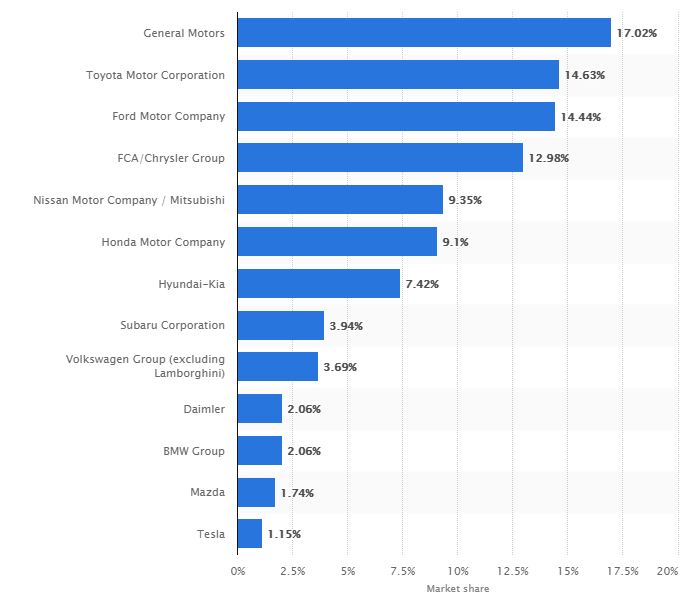 Top 10 Car Brands In USA
General Motors
General Motors is an American MNC (Multinational Company). Its complete name is General Motor Corporation and headquarter is in Detroit, Michigan. Now not only in the US but also in Canada and other countries it has strengthened its roots.
After the Great Depression in America and second world war where all the company plagued, GM decide to stand. The result of the hard work of GM was shown soon. In the 1950s every five cars out of ten were sold on the brand name of General Motors. GM's decline was not rapid. From the 1970s to 2010, it remained a force in trade not only in the US but worldwide.
If we talk about the current time General Motors business gain a 17.6% share in the market. GM has adopted the formula of electric cars. This is helping them to save 300000 metric tons of carbon dioxide emission per year.
Ford Motors
Ford is another brand name which is ruling the heart of Americans from multiple years. It is also a multinational American Company and like GM its headquarters is also in Michigan, in Dearborn.
The company was started on the 16th of June 1906. The company was named on Mr Henry Ford the founder of Ford motors. With approximately 200,000 employees worldwide, the company manufacture full line of cars, trucks and electric vehicles.
Ford Motors also have the ownership of Troller a Brazillian SUV Manufacturer, 32 % stake of Jiangling Motors and 8% stake of Aston Martin. One of the largest manufacturing expansions in the company's history. Ford Motor Company (Ford) has set to increase its capacity in the US.
Ford target of manufacturing autonomous and electrified vehicles for commercial use by 2021 has seen the business invest in many new technologies. The share of ford in 2018 gained 14.29%. Now in 2019, it is decreased by 0.55 %.
Toyota Motors
After the second world war, Japan is the only country which grows rapidly than other nations in very few time. And Toyota is a live example of this. Japanese Multinational Company Toyota Motors found on 28 August 1937. The headquarter of Toyota is in Aichi Japan and it named on its founder Kiichiro Toyoda.
It is the first Japanese company in the US from many years. Toyota's success stems from offering reliable, ineffective, and reasonably priced cars, or, if you're a little more cynical, being the closest to a white-good carmaker. With approximate 364,445 employees worldwide, the company manufacture full line of cars, trucks and electric vehicles.
Toyota motors have 16.6% stake in Subaru motors. Aiming to stay ahead of the curve, the company is also paying significant attention to its carbon footprint. And is ready to introduce new technologies to provide a personalized experience across all its product ranges.
Fiat Chrysler Automobile
Fiat Chrysler is a leading car manufacturer not only the United States but also in the world. FCA is a multinational corporation of America and Italy. Fiat is Italian and Chrysler is American but their headquarter neither in the US nor in Italy. It is in Netherland and London.
The group of these companies was formed in October in 2014. The company engaged in the design, engineering, manufacture and sale of vehicles and related parts and services, components and production systems. The company has its operations and customer base worldwide through more than 150 state-of-the-art manufacturing facilities, several R&D centres and dealers and distributors in approximately 150 countries.
Set to improve the driving experience, Fiat Chrysler Automobiles (FCA) has 36 manufacturing plants in North America. Fiat Chrysler automobile revenue was $ 120.460B for the twelve months ending June 30, 2019, a 9.38% year-on-year decline.
Renault Nissan Mitsubishi Alliance
Renault Nissan Mitsubishi Alliance is a French-Japanese multinational corporation. First, it was the group of two Renault and Nissan but after March 1999 Mitsubishi also joined this group.
A part of the Renault-Nissan-Mitsubishi Alliance, Nissan Motor Company and Mitsubishi have tie-ups with 9.93% market share. Now Renault Nissan Mitsubishi.
Honda Motors Company
Honda Motors is a Japanese Multinational Company. It starts on 24 September 1948 in Hamamatsu Japan. Now its headquarter is in Tokyo. Honda named on its co-founder Soichiro Honda.
Honda has made a terrifying tour to become a world-leading industry. Initially its first US outlet in the 1950s, it fastly became a famous brand in the world. Honda Motor became Japan's first car manufacturing company to become a net exporter from the United States.
Targeting on three core areas: robotics, mobility, and AI, Honda Motors increase its share of the North American market by 9.6%, where its producing plants and luxury brands, such as Acura, continue to see growing demand.
Hyundai-Kia Motors
Hyundai Motors generally known as Hyundai Motor Company. It was founded by Chung Ju-Yung on 29 December 1967. Its headquarter is situated in the capital of South Korea, Seoul.
Hyundai is the largest Korean brand and has grown quickly in the market of America. Over the past decade until supply shortages started to slow its expansion. Hyundai Motor Group, which holds a 7.5% share, accounts for about a third of Kia's total shares. Kia also owns about 20 Hyundai subsidiaries, forming a unique partnership between the two Korean car brands, as they cement their presence within the North American market.
Subaru Motors
As we said japan is fastly growing nation and in this race, one more company is here. Subaru a multinational Japanese company is a 22nd largest auto manufacturing company started on 15 July 1953 founded by Kenji Kita.
Not only has Subaru been the most successful of all Japanese automakers in increasing their volume in the US since 2006. But in fact, all mainstream brands have recorded the highest growth of 13% / year, with Audi (10%).
A focus on reducing its environmental impacts during its construction operations has steadily increased. The popularity of the company's vehicles, with the business gaining 3.8% market share.
Volkswagen Motors
Volkswagen Motors is the second-largest global car producer and the ninth in the US. It is a German Multinational Company were found in 1937 by the German Labour Front, which was Nazi (National Social German Worker) labour Union. The VW headquarters is in Wolfsburg in Germany.
One of the world's largest manufacturers, the Volkswagen Group has taken 3.7% in the market of North America. Most of its industries are located in 11 locations in Europe, located in the Americas, Asia and Africa. The company has launched its 'Strategy 2025' plans incorporating sustainable mobility and autonomy. Volkswagen has invested its 59 billion dollars to manufacture 300 models of electric cars. This target will complete in 2030.
Daimler Motors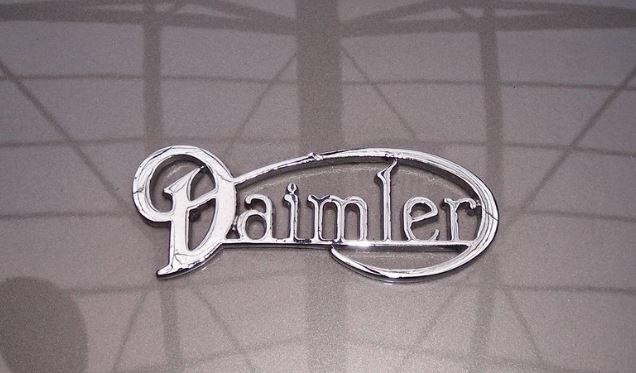 Daimler Motors is a British motor vehicle company in. In 1896 H.J Lawson found this company. It is the tenth-largest manufacturer of USA and also the largest truck manufacturer in the world. Daimler has gained 2.2% market share in the Nothern Part of the US by selling their 3.3 million automobiles 2017
China has been a major reason for this remarkable performance by the group which saw a 28% increase in Mercedes-Benz sales. The company also performed well in the electric cars segment as 136,000 electric smart models were sold worldwide.