Do you require remanufactured Mini engines because your existing engine is outdated and worn out? So you have come to the perfect location to get a great deal on refurbished engines. We deliver high-quality engines that are constructed by using high-tech computer numerical control (CNC). You may find that the engines are more reliable and durable.
Remanufactured Mini engines for sale
Auto Techio is the best platform from where you can buy high-quality remanufactured engines at a low cost. We have a wide collection of remanufactured engines and their models or various types of brands. Our huge collection of engines includes the Mini Cooper R56 engine, MINI R53 engine, Mini Cooper S 2009 engine, Mini Cooper S engine, 2010 Mini Cooper S engine, etc.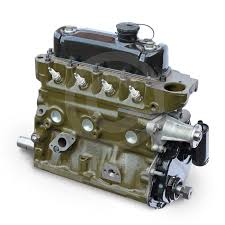 If your car's engines are prone to overheating, they may need to be replaced. Also, if your engine needs more fuel to move its components further. Then your engine may be damaged. As a result, replacement is the greatest option for resolving your engine's issue. You can save a lot of money by replacing.
All refurbished engines come with new pistons, rod bearings, piston rings, cylinder head, and gasket. Our engines have been properly cleaned and are absolutely free of dirt. With current technology and expert hands, you will have the most powerful remanufactured engine available.
Here you find a great deal on reconditioned mini-engines for sale. Let take a look at our inventory of the models of remanufactured Mini engines.
Various Models of the remanufactured Mini engines
Auto Techio deals in all the makes & models of remanufactured Mini engines in various fuel types such as petrol & diesel engines. Also, our offering price & cost of remanufactured engines is affordable & easy to buy. Here, find the list of our best-selling Mini engines for sale.
MINI Clubman Engines
MINI Convertible Engines
MINI Cooper Engines
MINI Countryman Engines
MINI One Engines
MINI Paceman Engines
MINI Miniature Engine
Rotax Mini Max Engines
Mini Jet Engines
Mini Engines Size
MINI 1.2 Liter Engines
MINI 1.4 Liter Engines
MINI 1.5 Liter Engines
MINI 1.6 Liter Engines
MINI 2.0 Liter Engines
Remanufactured Mini engines feature & benefits
Purchasing remanufactured engines is the most cost-effective solution. As we offer high-quality engines. The genuine engine parts are used in the design and development process of engines. There is another replacement option for engines, i.e., used engines. But the performance of these engines is lower than the refurbished engines. If you understand the difference between remanufactured and used engines, you will always choose remanufactured engines. Apart from that, there are numerous features of the remanufactured Mini engines such as,
Low in price & easy to buy.
Strong & powerful performance like new engines.
Using original & genuine parts to remanufacture engines.
Standard quality of QS9000.
Manufactured using the latest computer numerical control technology.
Always remanufactured the latest & updated version of the engines.
Best for the environment perspective, because it took less energy to manufacture than new engines.
Warranty on remanufactured Mini engines
With the best quality remanufactured Mini engines, we also provide a long-time warranty on our engines. There are 99% chances our engines will last long without any fault.
And if it got damaged then we will ready to repair it in the warranty time period. The repairing of these engines is done free of cost.
You don't need to go outside of your house, shop online, get the best price on the right product, and it's sent right to your door, and enjoy our best services on remanufactured engines.
Why choose Auto Techio
Our organization is the best leader in the field of remanufactured engine service in the USA. The highly qualified team of engineers & well-trained technicians is always ready for offering the best in quality service to our clients. We work with the commitment of 100% client satisfaction, which makes us a prime distributor of the remanufactured engines in all brands & fuel engines. Apart from that, in our service, you can get quality work on remanufactured transmission & rebuilt transmission.
Aside from that, there are a few additional features of our high-quality service:
Remanufactured car engines with great reliability and excellent service.
Available in a variety of brands and fuel engines, including gas and diesel.
A group of highly skilled technicians and car engineers.
Engine breakdown is given zero importance.
Work that is dependable and ships for free.
Follow the assembly instructions to the letter.
To get more information or want to buy remanufactured Mini engines, you can call or contact us. Our professional will help you to get the best deal.