Want to get the best remanufactured GMC engines for the best price? Thus, you have arrived at the best location to purchase high-quality remanufactured engines. We are offering here different types of refurbished engines with different brands & models. Even our offering prices are more affordable and minimal as compared to other GMC dealers. Our engines are more reliable and durable. Thus they will easily install in your vehicle and provide high performance.
People are mostly confused by the distinctions between used engines and remanufactured engines. You must first know the differences between remanufactured and used engines. Remanufactured engines have undergone extensive testing and analysis to ensure that they are identical to the original engine. Used engines, on the other hand, have had new segments installed to replace the worn-out sections.
Remanufactured GMC engines provided by us
AutoTechio is the best platform for finding low-cost, high-quality products. We mostly deal with remanufactured engines. Moreover, our engines maintained the fuel economy. It means these refurbished engines can run for long miles with less fuel consumption. And also these are the upgraded version of the old engines. Thus you didn't think about how long do remanufactured engine will last.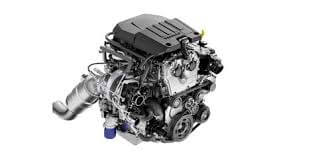 The Remanufactured engines of Auto Techio are tested under demanding conditions to make sure the greatest reliability. If you will purchase a GMC remanufactured engine from Auto Techio you will get a post-model engine built with the latest technology. Check your required remanufactured GMC engine below if you don't see your needed engine. Call us we can help you in providing the right engine according to your GMC vehicle. These remanufactured GMC engines are available in different fuel categories such as petrol & diesel engine.
Auto Techio offers GM remanufactured engines such as remanufactured 6.2 GM Engine, GMC Sierra Duramax, GMC 5.3 engine, GMC Canyon Duramax, Ecotec3 6.2 l v8, p1516 GMC, GMC 305 v6, GMC Terrain Horsepower, p0128 GMC, 2016 Denali Duramax, GMC Sierra v6 and many more GMC engine for sale.
We also offer great deals on the models of remanufactured GMC engines. Let's discuss some models that are listed below.
Remanufactured GMC engines models
Auto Techio offers remanufactured GMC engines in different categories. Here you find our best-selling product list.
2.4 Liter General Motors Quad 4 Remanufactured Engines
4.3 Liter remanufactured GMC Engines
GMC 350 Remanufactured Engines
5.7 Liter Vortec Engines
8.1 Liter Propane Engine Upgrade Version
Gmc Terrain engines
Gmc Acadia Engines
Gmc Syclone engines
Gmc Typhoon engines
Gmc Canyon engines
Gmc Denali Engines
GMC Sierra 1500 Remanufactured Engine
If you are searching for a remanufactured engine for your GMC Sierra 1500, definitely you want an engine from only a trusted brand. Here at Auto Techio, we come with only the top reliable engines- Remanufactured products and part brands. We are sure that you will find the right engine to keep that your Sierra 1500 will run for a long time.
Visit our online store to find the right product, and will have it shipped to write your official address. See below to find the exact match of the GMC remanufactured engine for your GMC Sierra 1500 engines.
Chevrolet 6.0 H.P. 01-07 Engine
Chevrolet 5.3 385HP Engine
Chevrolet 5.3 10-14 Engine
Chevrolet 5.3L 07-09 Engine
Chevrolet 6.0 V8 02-07 Engine
Chevrolet 5.3 10-14 LMG Engine
Chevrolet 4.8 V8 07-09 Engine
Reman Long Block
Chevrolet 5.3L 07-09 Engine
Chevrolet 5.3 V8 05-07 Engine
Chevrolet 4.8 L20 10-11 Engine
Chevrolet 4.8 V8 99-07 4WD Engine
Chevrolet 5.3 V8 99-07 4WD Engine
Chevrolet 4.8 V8 99-07 2WD Engine
Chevrolet 5.3 V8 99-07 2WD Engine
Chevrolet 262 01-07 2WD Engine
Chevrolet 4.3 07-14 Engine
Here at Auto Techio have a large collection of replacement, remanufactured and crate engines in our stock for your GMC vehicle. Our customer care executives are always ready to help you in matching the right engine to your vehicle. The availability of these remanufactured GMC engines service available in different fuel categories such as petrol & diesel engine.
Features of our remanufactured GMC engines
The advantages of reconditioned GMC engines are listed below.
It is an updated version of the engines, so you won't need to replace your GMC's engines for a long time.
One of the most significant advantages of our refurbished GMC engines is their lower cost.
Our remanufactured GMC engines will give new life to your vehicle and increase its performance.
If you enjoy the outdoors, this is an important consideration. Remanufactured engines use less energy in the manufacturing process than new engines, so they are also better for the environment.
We strongly encourage energy conservation by upgrading components, which improves gas mileage and reduces emissions.
Remanufactured parts are well-known for their high quality.
The refurbished GMC engines, on the other hand, are more reliable and durable.
Because of our quick service, you will save a lot of time, which will make you less stressed and worry-free.
Your remanufactured engine will be serviced by us in a timely manner.
Your car's efficiency and performance will improve if you use our remanufactured engines.
Our services
We are one of the largest & trusted dealers of remanufactured engine service. All the range of car engines for sale properly checks & tests in all parameters of our high-tech working station. Also, the team of professionals completely examines all the parts of the GMC engine for the best driving experience for our clients. That means a very low buying cost of a remanufactured GMC engine.
Our car engine service didn't compromise with the quality of equipment & always try to make this remanufactured GMC engine as same as the new car engine. To get more information or want to buy a remanufactured GMC engine, you can call or contact us. Our team of professionals provides you complete inquiries with product detail and helps you to find out the best deal.