Is your Merkur engine making strange noises and giving you trouble when driving? This means your car is pleading with you to replace your engine since it is making you sick. You should pay attention to your vehicle's needs and replace its engine with a high-quality used Merkur engine. AutoTechio sells only the highest quality used engines that have passed a thorough inspection and testing by the top engineers. Make the wise decision and purchase a high-quality engine from our staff. Inquire about all of the alternatives for high-quality replacements.
Used Merkur Engines for sale
Merkur is a defunct automobile brand. It was marketed by the Lincoln-Mercury division of Ford Motor Company from 1985 to 1989. Mercury is a German word that was changed to Merkur. Merkur was targeted at buyers of European executive cars in North America, selling captive imports produced by the German division of Ford of Europe.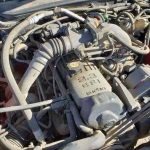 AutoTechio has a large quantity of Merkur used engines such as Merkur xr4ti for sale at very cheap prices. Our best engines not only will give a new life to your vehicle but also make it the fastest and expensive car like new. buying a new car or engine can shake your budget, first of all, you have to think about the budget and if you do not have thousands of dollars to purchase a new car, then you look for alternate options.
.AutoTechio provides you with used Merkur engines in very good condition with a highly efficient, performance, and low mileage oriented at a price of one-third of the cost of a new one. You will find our used engines like new ones. Used Merkur Engines is a cost-effective option for the Merkur car owner nowadays. We try to provide a low mileage used engine to our customers. Beyond the reasonably priced thing of shopping for a used engine, there is another benefit which has currently come to awareness, used automobile engines assist the surroundings because we are using them to reuse perfectly, it is an awesome way to lessen our environmental impact.
The used engines installation includes replacing engine oil, engine oil cooler, antifreeze, hoses, timing belts, and oil filter. Sparks plugs and wires are replaced and installed. After this, inspection and replacing of gaskets and seals are done. All the computer codes from the vehicle are cleared before installation. Accessories such as mounts, exhaust manifolds, distributors, sensors are exchanged. Before installing all plugs and tapes are removed from the engine and fuel and ignition are turned off.
AutoTechio is not only a manufacturer and seller of the engines but also a trusted brand in the entire USA. Because AutoTechio offers our customers good quality, cleanness, and better function on their used engines at affordable prices. So you can earn profit with a good quality engine. 
Merkur Engines Model
Engines Sizes
2.3 Liter Engines
2.8 Liter Engines
Benefits of Used Merkur Engines
We offer best quality engines
You can get AutoTechio's best quality used engines at cheap prices.
Our clean, orderly recycling facility makes it easy to locate an engine that will match your needs.
We have a recycling system engineered below a facility designed to filter and recycle all automotive fluids from the vehicles we have a tendency to receive.
All makes and models used engines are available at AutoTechio.
100% Quality check engine, no chance to see fault for a long time.
We also try to provide a good quality of the engine with low mileage.
Used units have already passed the test and ready to attempt a successful drive in cars.
We can convert your car from a slow car to a fast car.
The oil disposal & filter changing of used engines become useful for enhancing the shelf life of the vehicle.
Free shipping to any commercial address in the entire US.
Another benefit is the trusted reliability, It may be more reliable than their new counterparts.
Why choose us
Here at AutoTechio, you can also get different engines like remanufactured engines and rebuilt engines in great quality and price. You can get personal assistance by contacting our customer care executive.  Our team is well experienced and always ready to help you in selecting the right remanufactured Merkur engines for your Merkur vehicle. With the best quality, AutoTechio also provides you a warranty on their used Merkur engines. This means we will repair the engines free of cost if it has any technical issues. 
We want to provide good and solid used auto engines at real prices – the prices you can afford. The success of your efforts is our success. Unlike all others, we aim to avoid reducing the success of our customers. Instead, when we make the appropriate explanations, according to you and your goals, needs, and budget. We work for the service, to make you happy, save your money, and run your Merkur smoothly on the road for a long time.
AutoTechio offers lower prices than others on their engines. Our work is not only to sell used engines, but we also help customers by providing good quality, performance, and the best services at reasonable prices. It is our first priority to drive a car to run smoothly for a long time. We make certain that our customers receive a high-quality engine that is safe for everyone driving your vehicle. The VIN-free check and service records, as well as examining for oil leaks and strange smells, performing a detailed inspection under the hood, and test driving, are all part of our routine inspection and diagnostics testing.
Our aim is to bring your vehicle back to the road as soon as possible and to improve it further!