Do you have an issue with your Smart engine, such as a strange noise while driving? This is a symptom that your engine is not really feeling well and needs to be replaced. You have the option of purchasing a new engine or a used engine. You should pay attention to your car's needs and replace its engine with a good used Smart engine.
Used Smart Engines for sale
Smart is a popular microcar in Europe since the 1990s. Behind the two-passenger smart car, there was the brainchild of the Swiss watchmaker, Daimler Benz, and Swatch. This car makes sense for the narrow European, often crowded, and winding roadways. When it was introduced in 2008 to the U.S. smart became the butt of jokes due to its minute size. It has yet to turn a profit for Daimler-Chrysler, as its chief competition is the highly successful BMW MiniCooper. The smart is available in five models including both the seat four version and the electric model.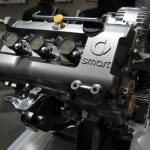 AutoTechio has the used Smart engines you need at very cheap prices. Our best engine not only will give a new life to your vehicle but also make it the fastest and expensive car like new. buying a new car or engine can shake your budget, first of all, you have to think about the budget and if you do not have thousands of dollars to purchase a new car, then you look for alternate options. So that you can make your car good again. AutoTechio provides you with used Smart engines in a very good condition with a highly efficient, performance, and low mileage oriented at a price of one-third of the cost of a new one. You will find our used engines like new ones.
A used Smart Engines is a cost-effective option for the Smart car owner nowadays. We try to provide low mileage used engines to our customers. Beyond the reasonably priced thing of shopping for a used engine, there is another benefit which has currently come to awareness, used automobile engines assist the surroundings because we are using them to reuse perfectly, it is an awesome way to lessen our environmental impact.
AutoTechio is not only a manufacturer and seller of the engines but also a trusted brand in the entire USA. Because AutoTechio offers our customers good quality, cleanness, and better function on their used engines at affordable prices. So you can earn profit with a good quality engine. We sell Smart engines such as turbo smart 600cc, smart CDI turbo, smart 1000cc 2010, smart 0.7 turbo, smart 1000cc 2008, etc.
Engines Model
Limited 1
SE
Cdi
Crossblade
Crosstown
Night run
True style
I-move
Forfun2 Concept
Brabus
K
Fortwo Edition Limited One
Engines Sizes
0.8 Liter Engines
0.8 Liter Engines
1.0 Liter Engines
1.5 Liter Engines
2.7 Liter Engines
Benefits of Used Smart Engines
We offer the best quality engines.
All makes and models used engines are available at AutoTechio.
You can get AutoTechio's best quality used engines at cheap prices.
Our clean, orderly recycling facility makes it easy to locate an engine that will match your needs.
We have a recycling system engineered below a facility designed to filter and recycle all automotive fluids from the vehicles we have a tendency to receive.
100% Quality check engine, no chance to see fault for a long time.
We also try to provide a good quality of the engine with low mileage.
Used units have already passed the test and ready to attempt a successful drive in cars.
We can convert your car from a slow car to a fast car.
Reason to choose us
Here at AutoTechio, you can also get different engines like the remanufactured engine and rebuilt engine in great quality and price. we also provide a new engine at a reasonable price. Our impressively sized warehouses are fully stocked with high-quality engines. It may be the case that you aren't sure about the right used Smart engine you need. You can get personal assistance by contacting our customer care executive.  Our team is well experienced and always ready and able to serve you in selecting the right used engines for your Smart vehicle.
With the best quality, AutoTechio also provides you a warranty on their used Smart engines. This means we will repair the engine free of cost if it has any technical issues. We want to provide good and solid used auto engines at real prices – the prices you can afford. The success of your efforts is our success. Unlike all others, we aim to avoid reducing the success of our customers. Instead, when we make the appropriate explanations, according to you and your goals, needs, and budget. Our business is superior customer service, so your purchase is risk-free.
AutoTechio offers lower prices than others on their engines. Our work is not only to sell used engines, but we also help customers by providing good quality, performance, and the best services at reasonable prices. It is our first priority to drive a car to run smoothly for a long time.
Our aim is to bring your vehicle back to the road as soon as possible and to improve it further!