If you are finding an engine for your Suzuki car at less price so you are in the right place, there is nothing better than using our used Suzuki engines for your car. AutoTechio is the largest retailer of the used engines in the USA. We provide the best quality used engine of different makes and models and Suzuki is one of them. AutoTechio is the best online engine selling site if you are looking for a used engine for your vehicle.
Used Suzuki Engines for sale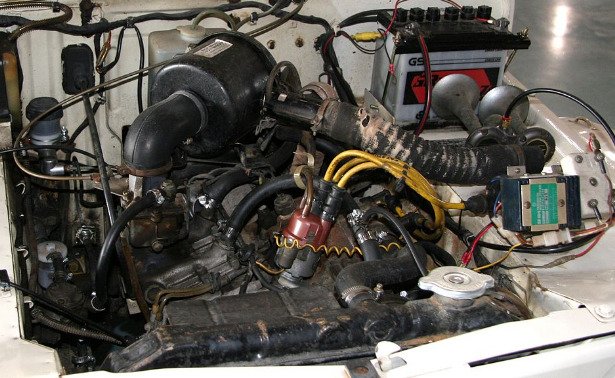 When it comes to buying a new car or engine, first of all, you have to think about the budget and if you do not have thousands of dollars to invest, then you are looking for alternate options to make your car good again. AutoTechio provides you with highly efficient, performance, and low mileage-oriented Suzuki engines at a price of one-third of the cost of a new one. 
The greatest option to restore your car at the best price is to buy old engines at a low price. Before being repaired, these used engines were thoroughly checked in all criteria. The majority of the secondhand engines are removed from old vehicles and have some basic flaws. So, first and foremost, our skilled team of specialists replaces all defective components with new ones. Our used automobile engine selection is highly efficient and provides trouble-free service over a lengthy period of time. When compared to the cost of a new automobile engine, the overall cost of replacing a car engine is far less.
Beyond the cost-effective aspect of buying a used engine, there is another benefit which has recently come to awareness, used car engines help the environment because we are using them to reuse perfectly, it is a great way to lessen our environmental impact. That means by using a used engine for the vehicle you are not only saving your money but also contributing to saving the environment for the future generation.
Our store presents thousands of Used Suzuki engines for sale for different models. You can take advantage of the exact engine parts you see in our list. AutoTechio has used engines available for approx all the latest model vehicles. We sell Used Suzuki outboard engines for sale such as used Suzuki df300 for sale, used Suzuki 250 outboard for sale, used Suzuki equator, and many more.
Suzuki Engines Model
Suzuki Alto
Suzuki Apv
Suzuki Baleno
Suzuki Carry
Suzuki Celerio
Suzuki Cervo
Suzuki Ciaz
Suzuki Cultus
Suzuki Dzire
Suzuki Equator Pickup
Suzuki Ertiga
Suzuki Every
Suzuki Farmworker
Suzuki Forenza
Suzuki Fun
Suzuki Grand Vitara
Suzuki Hustler
Suzuki Ignis
Suzuki Jimny
Suzuki Karimun
Suzuki Kei
Suzuki Kei
Suzuki Kizashi
Suzuki Landy
Suzuki Lapin
Suzuki Liana
Suzuki Mr Wagon
Suzuki Palette
Suzuki Palette
Suzuki Reno
Suzuki Samurai
Suzuki Sierra
Suzuki Solio
Suzuki Spacia
Suzuki Splash
Suzuki Swift
Suzuki Swift+
Suzuki Sx4
Suzuki Twin
Suzuki Verona
Suzuki Vitara
Suzuki Wagon R
Suzuki Xl7
Engines Sizes
1.3L Engines
1.6L Engines
1.8L Engines
And many more
Benefits of using our used engines
The first benefit is that it is less expensive than new automobile engines. Buying used engines is a more cost-effective way to restore your old car. By ordering it, we can use all of the old engine's accessories and save a lot of money.
They are good for the environment and our natural world. It prevents the well-maintained engine from ending up in the landfill and reduces the amount of waste. Purchasing a used engine or any other auto part helps to keep them out of landfills and out of the waste stream.
Used engines save lots of energy. An increase in the purchase of a used engine can also significantly decrease the amount of energy that would be used to produce new ones. This helps to lower the greenhouse gases and emissions put into the environment. Purchasing a used engine for the car helps you to reduce waste.
Also, the oil disposal & filter changing of used engines become useful for enhancing the shelf life of the vehicle.
Buying a new car is not a easy task. First of all, it is a very costly process. Along with it, you have go through numerous procedures such as ranging from a new registration and changes insurance policies. While replacing an engine requires some additional work up front. And also, saves lot of your time and money.
Another advantage is the proven reliability, which may be superior to their newer counterparts. The fact that a used engine has been tried and tested demonstrates that the car engine parts and function are in good working order.
Regardless of the fact that they are used, used engines frequently come with minor repairs and improvements. This makes them proved and upgraded version.
An inspected used engine gets better mileage and emits less pollution than your old engine.
Why choose us
We want to offer good, reliable used auto engines at realistic prices that you can afford. Our success is determined by the success of our efforts. Unlike everyone else, we don't want to harm our customers' success. Instead, when we provide you with the appropriate explanations based on your goals, needs, and budget. We work for the benefit of the customer, to make you happy, to save you money, and to keep your Suzuki running smoothly.
AutoTechio sells only the highest-quality Suzuki engines for sale that have passed a thorough inspection and testing by our top engineers. After that, there are plenty of experiments involving an internal sludge valve cover. The analysis is in line with your engine's model.  Before being shipped, all engines are thoroughly inspected by professionals.
You can also find remanufactured engines, rebuilt engines, and new engines at AutoTechio, all of which are of excellent quality and value. You can get personal assistance by contacting our customer service representatives, who are knowledgeable and always willing to assist you in choosing the best used Suzuki engines for your Suzuki vehicle. AutoTechio offers a warranty on their used vehicles in addition to the highest quality. This means we will repair the engines free of cost if it got technical issues.
Our aim is to bring your vehicle back to the road as soon as possible and to improve it further!