Are you thinking to buy the GMC new transmission for your GMC vehicle? But you are incapable of buying the new transmission as they are costly. Then your searches might stop here as we offer the used GMC automatic transmission in a better price plan. We provide the best quality used transmission sale at better prices. Used transmission is made by adding more functioning by adding new parts and logic into the old transmission.
Our all products are carefully and completely tested under the technician's teams. Auto Techio offers the used transmission sale with a six-speed automatic transmission. The design of this transmission is variants for different torque levels to accommodate other parts of the vehicle and its application.
Used GMC automatic transmission for sale
Here we provide the overview of GMC transmission specs and updates to inform you about the offers of this transmission. You will get the best ride with the use of used GMC transmissions. Basically, the GMC transmission is designed by general motors. It works with heavy-duty components, which provides you the best strength and performance. GMC transmission is available in both an automatic and manual manner. Here we offer the certified used GMC automatic transmission in the sale at affordable prices. The used transmission is the most important part of your vehicle as it works as 24/7 roadside assistance for you.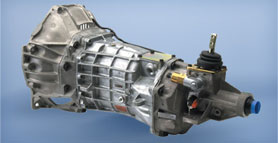 GMC transmission is available for all applications like diesel engines and gas engines at Auto Techio. Buy old transmission from our network that offers them at affordable prices. The updated models of this transmission are also available. You can buy the used GMC transmission with its updated models.
Used GMC automatic transmission models
GMC Canyon
GMC Yukon
GMC Sierra 1500 limited
GMC Terrain
GMC Acadia
GMC Sierra 1500
Features of used GMC automatic transmission
As automatic transmission are multi-speed transmission that is used in motor vehicles. In an automatic transmission, the driver is not required to input the change of gears under normal driving conditions. The most common automatic transmission is hydraulic transmission. The hydraulic transmission uses a planetary gearset, torque converter, and hydraulic controls. Mostly automatic transmission is said to be advanced and featured transmission. Some of these types of features are also included in used GMC transmission which is listed below:
Improved Fuel efficiency: GMC transmission enables a lower numerical gear ratio, reducing the engine speeds and enhancing efficiency. The wider ratio helps is lower the numerical top gear ratio. Through which it delivers great fuel efficiency in comparison to other predecessors. Low friction will also help to improve fuel efficiency.
Extra hydraulic pumps to control the fluidity of transmission: The clutches in an automatic transmission work in a hydraulically controlled manner. The new speed relies on the two hydraulic pumps. The transmission speed helps fluid to reach the viscosity at particular centistokes. Through this, we can reduce friction and workload for the pumps.
Quicker and Smooth shifts: The quick shifts help the engine, rated at horsepower and torque. To achieve a more immediate feeling of performance quick shifts are required. Merge onto the passing which is a breeze despite the weight of full sizes. The shorter steps between gears with the proprietary controls provide a quick shift. It also provides a seamless shifting experience which helps in making the transmission more efficient in each of its gear ratios.
GM control system: The world-class shift time quickness and responsiveness can be achieved by leveraging the transmission hardware. The number of instructions is used by the externally mounted electronic control for executing per second.
Reduce spin losses: There are several friction-reducing design features which include all ultra and ultra-low viscosity transmission fluid. There are internal thermal bypass and various other lower elements that minimize mechanic spin losses.
Wider gear ratio speed: There is a widespread ratio between the time period. On increasing the size of gear, there is smooth run is available. This will provide the best class driving experience for the user.
Why choose Auto Techio
Welcome to the fastest and cheapest service provider of used automatic transmission. Auto Techio offers various a large collection of used transmission for multiple brands. If you choose to spend more time and money on our network then you will more services which are listed below:
Guaranteed products
Better price adjustment
Comprehensive warranty products
Qualified products
Products are manually tested by technicians teams
Auto Techio is one of the certified suppliers that provide the used GMC automatic transmission at the cheapest price. You can get more queries about used transmission prices and its details from our customer support. Our customer support is available 24/7 on the site.