If you have a Buick vehicle. There can be identified transmission problems for every Buick model. All though some years of Buick have fared better than others. You can choose the option of used Buick automatic transmission for your car in the place of new. As the used transmissions prices are more affordable.The reason for these problems reported from transmission shifting uncertainly and loss of transmission fluid. There are also some other problems reported in Buicks that may be mistaken for transmission issues, such as potential looseness connecting the carburetor to the transmission in the throttle pressure cable in several models.
Used Buick automatic transmissions for sale
Buy used Buick automatic transmission from Auto techio. We offer you a great warranty on qualified units! We carry a wide-ranging catalog of Buick automatic transmissions for sale with all applications including gas and diesel engines. Buy our used Buick transmissions as like new from us without any worry, save your time and money.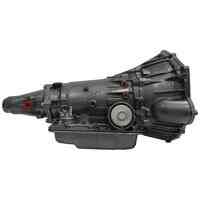 Before the computer age, the automatic transmission was the most complex thing in an automobile. For internal combustion engine vehicles, some form of variable gearing is necessary. Having a reliable link between the powerplant and wheels is vital.
Here are some models available for example, used transmission for 2005 Buick Lesabre, used transmission for 2001 Buick Lesabre and, used transmission for 2008 Buick Lesabre. And also here you will find the best and affordable Buick regal transmission prices.
Used Buick automatic transmission models.
Buick Regal
Buick Electra
Buick LaCrosse
Buick Skyhawk
Buick LeSabre
Buick Envision
Buick Enclave
Buick Encore
How to identify used Buick automatic transmission
If you have a question like how do I identify my transmission? To identify whether it is automatic or not. The first option is to count the number of oil pan bolts on the bottom of the transmission. The second is to differentiate automatic transmissions with the same bolt count using an oil-pan shape. For further identification of automatic transmission, use a Buick transmission application.
Due to the convenience of automatic transmission, they are becoming increasingly popular in modern cars. There are different types of automatic transmissions available like Buick 4 speed automatic transmission, Buick 215 automatic transmission, Buick v6 automatic transmission, Buick 225 v6 automatic transmission, Buick special automatic transmission, and many others. The first Buick automatic transmission was Dynaflow the trademarked name for a type of automatic transmission. It was built and developed by General Motors Buick Motor Division from late 1947 to mid-1963.
The hard shift in automatic transmission
The number one and most common problem with the automatic transmission fluid is hard shifting. Causes of hard shifting can be either not enough of its presence, or old, used-up transmission fluid that needs to be replaced. Lack of lubrication or lubricating oil will always cause hard shifts. Always have your transmission fluid checked by a professional. Here a Buick enclave automatic transmission fluid capacity, it can take 9.5 / 9.0L. Vehicle owners should have knowledge about which option is better for transmission fluid change.
You also have some responsibility towards your car that should know about transmission maintenance and the habit to check your vehicle regularly. The vehicle should be driven carefully, the Fluid availability check, and the load of the engine needs to be low so that it can give long-lasting and better performance. If you see any minor problem in your car, you need to fix it immediately. It can change into any major issue. AS for your safety purpose, your vehicle should be good every time.
Benefits of used Buick automatic transmissions
The affordable price of Used automatic transmission.
Smooth and high performance of the used transmission.
All tests passed and quality checked transmission.
Various types of transmission and their models are available.
Warranties offer to depend on the transmission
Fast speed of the car and other parts.
Used transmission as in new condition.
Zero complaints and faults on transmission and also on other auto-parts.
Why choose us
Auto techio offers you a used transmission for your vehicle. The transmission quality includes distortion, degradation due to noise, frequency response errors, echo, group delay, gain compression, and other things to problems and you will not find any fault from these.
Our dedicated team is always available to help our customers, we offer you lower prices of products than others. Your vehicle is our priority, We are here not to sell the auto parts, we provide our customers with high-quality performance. If you have issues related to selecting transmission, our team will surely assist you. Most importantly no one wants to take the risks for their vehicle. So they don't want to handover it to any early learner, he can mistakenly ruin something or some part in your vehicle.
Auto techio has a team of experienced members that you can trust on us. We give you a warranty on our products with extra care. We aim for your benefit. Deal of no loss and no complaints.